Black and white kitchen design ideas
Not all monochrome kitchens have to be cold. A black and white styled space can easily be warmed up and softened with the help of a few changes – perhaps injecting a spot of colour into the fixtures, or changing up the textures. You'll be sure to have a kitchen you'll love in no time.
3 Ways to Add Warmth to a Black and White Kitchen
Black and white colour palettes in kitchens are a classic combination that will never go out of style. While the combination is clean and sophisticated, it calls for an element of warmth to soften the bold contrast. The kitchen is, after all, the heart of a house. Here, we'll explore how cabinets, splashbacks and window and door frames can help to break up the starkness of your black and white kitchen.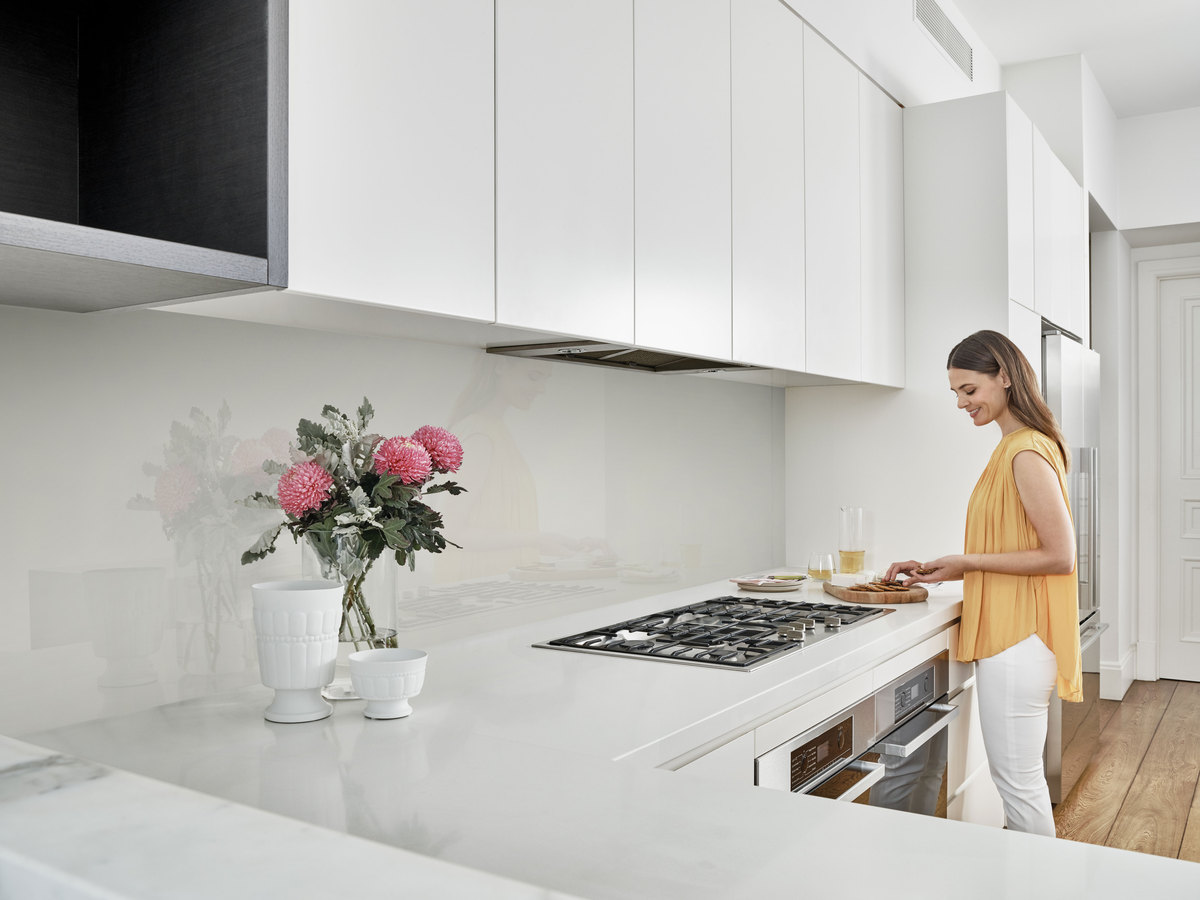 Cabinets
Cabinets play a big part in your kitchen's overall aesthetic. They house your dinnerware and pantry essentials and take up a lot of visual space. This means your cabinetry can be a foundation for introducing colour and personality.
If you're renovating on a tight budget, painting your cabinets can give your kitchen an instant lift. Brave colour contrasts are gaining a lot of traction, but if big statements aren't your style, adding colours that are black– or white–adjacent, like a rich cream or deep navy, can create a more inviting space.

If you're committed to a monochromatic cabinet, playing with its design or materials can help you to introduce more personality throughout your kitchen.


Mesh cabinets bring an industrial feel, while wood-panelled cabinets add texture. Glass-fronted cabinets create a display of your homewares, or you could add a touch of luxury with a reflective, lacquered finish. It's about finding what most appeals to your unique design aesthetic.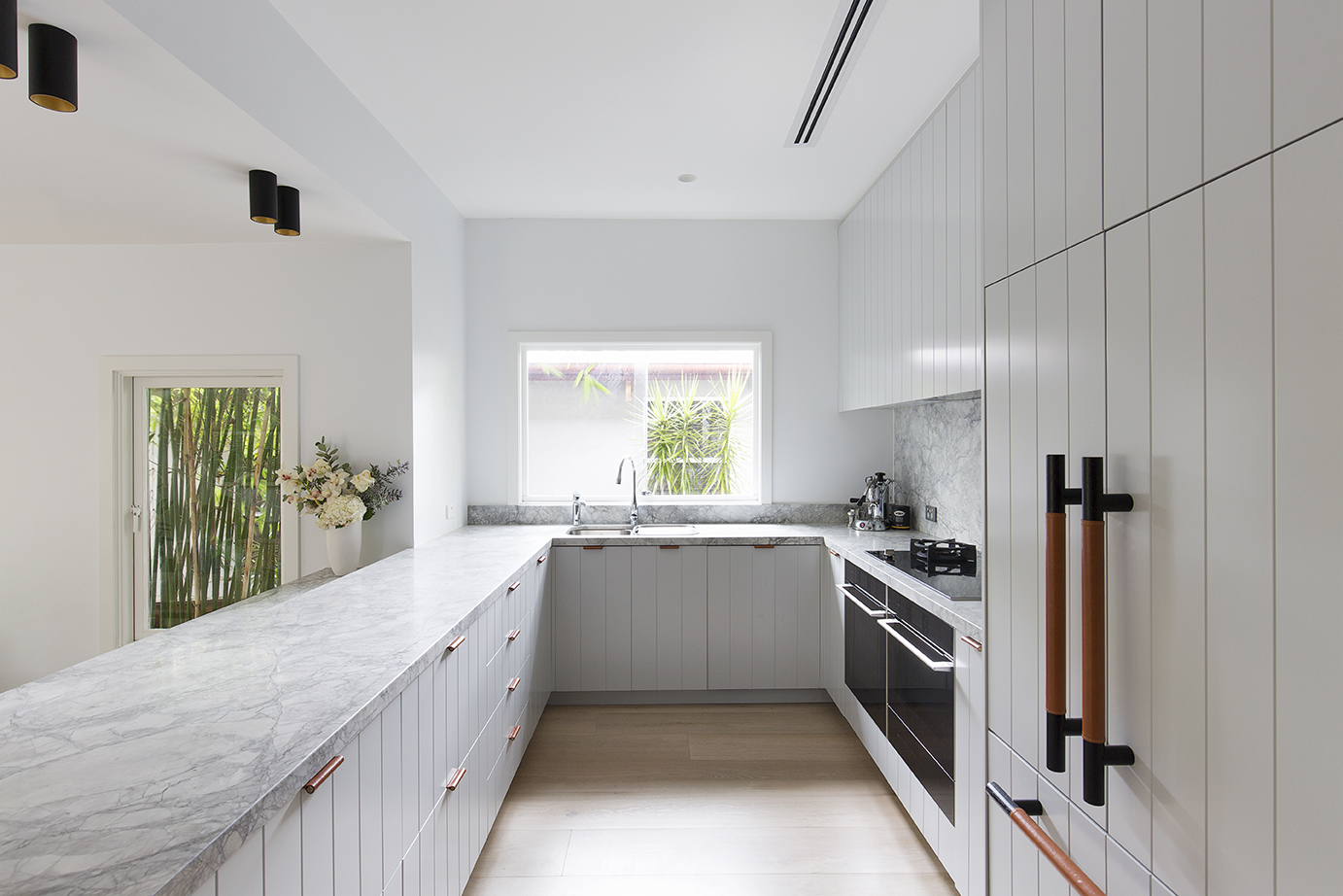 Splashbacks
Despite their functional nature, splashbacks are a great way to bring unexpected depth and character into your kitchen. Much like cabinets, they come in a range of different colours, materials and designs that can either complement or contrast your chosen style.

Using an unexpected material for your splashback can bring a balance to an otherwise monochromatic space.

Natural materials, like Stegbar's Create Natural Collection, carry slight imperfections in their tone and texture while still delivering a polished look. This makes them the perfect companion to sleek interior design.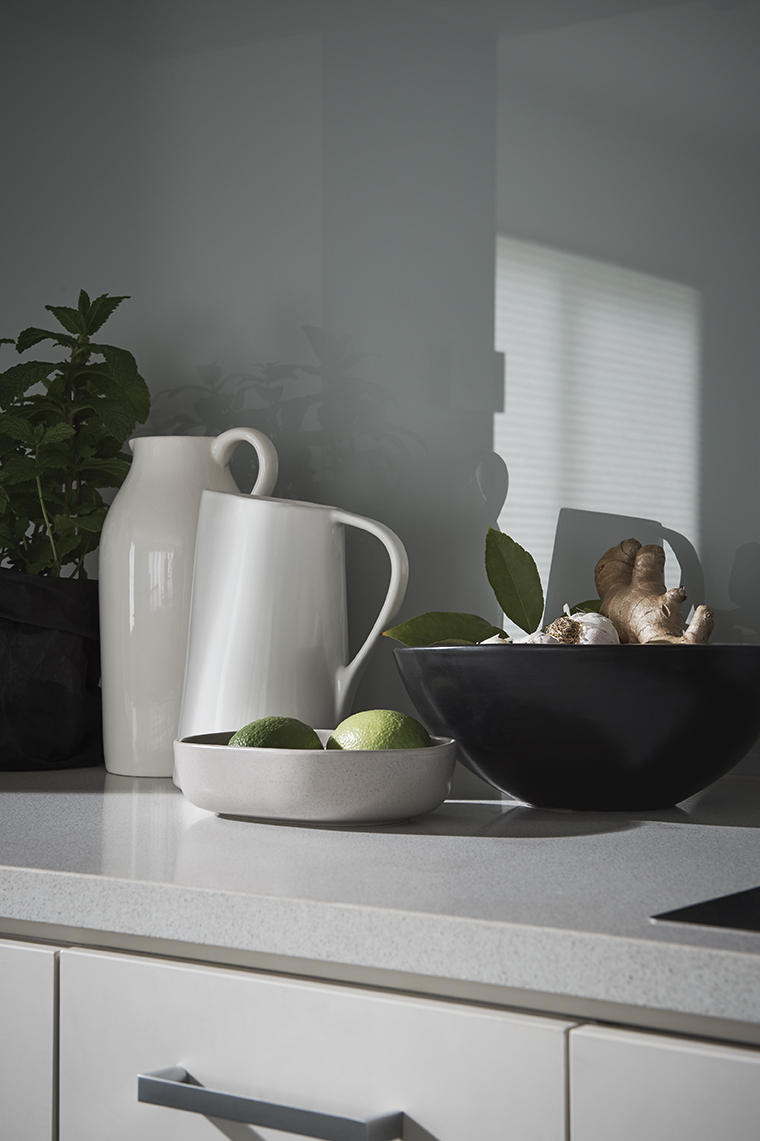 Patterned glass, like Stegbar's Design Collection, is a great option if you'd like your splashback to work as a focal point for your kitchen. If that's not for you, coloured glass or metallic finishes can add softness without becoming too much of a statement. Mirrored splashbacks can add a sense of spaciousness to a small kitchen or help to draw the outside in by reflecting your surroundings.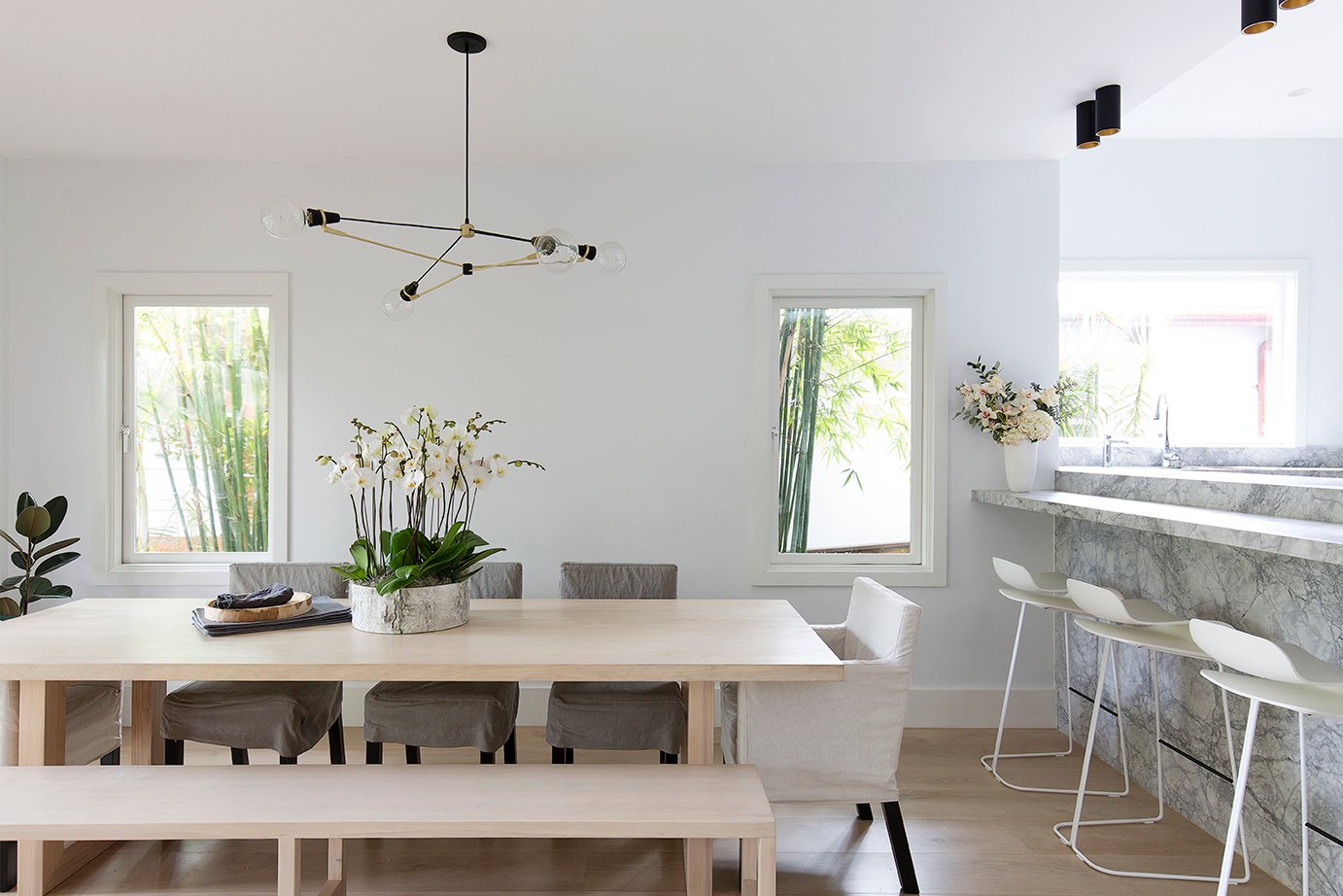 Window and door frames
When it comes to bringing softness to your black and white kitchen, your window and door frames may not be front of mind. However, they can provide a gentle break from your black and white theme.

Choosing natural materials for your frames is a great way to do this.

Much like marble and concrete splashbacks, Stegbar's timber frames carry slight imperfections, which help to break up any sparse features.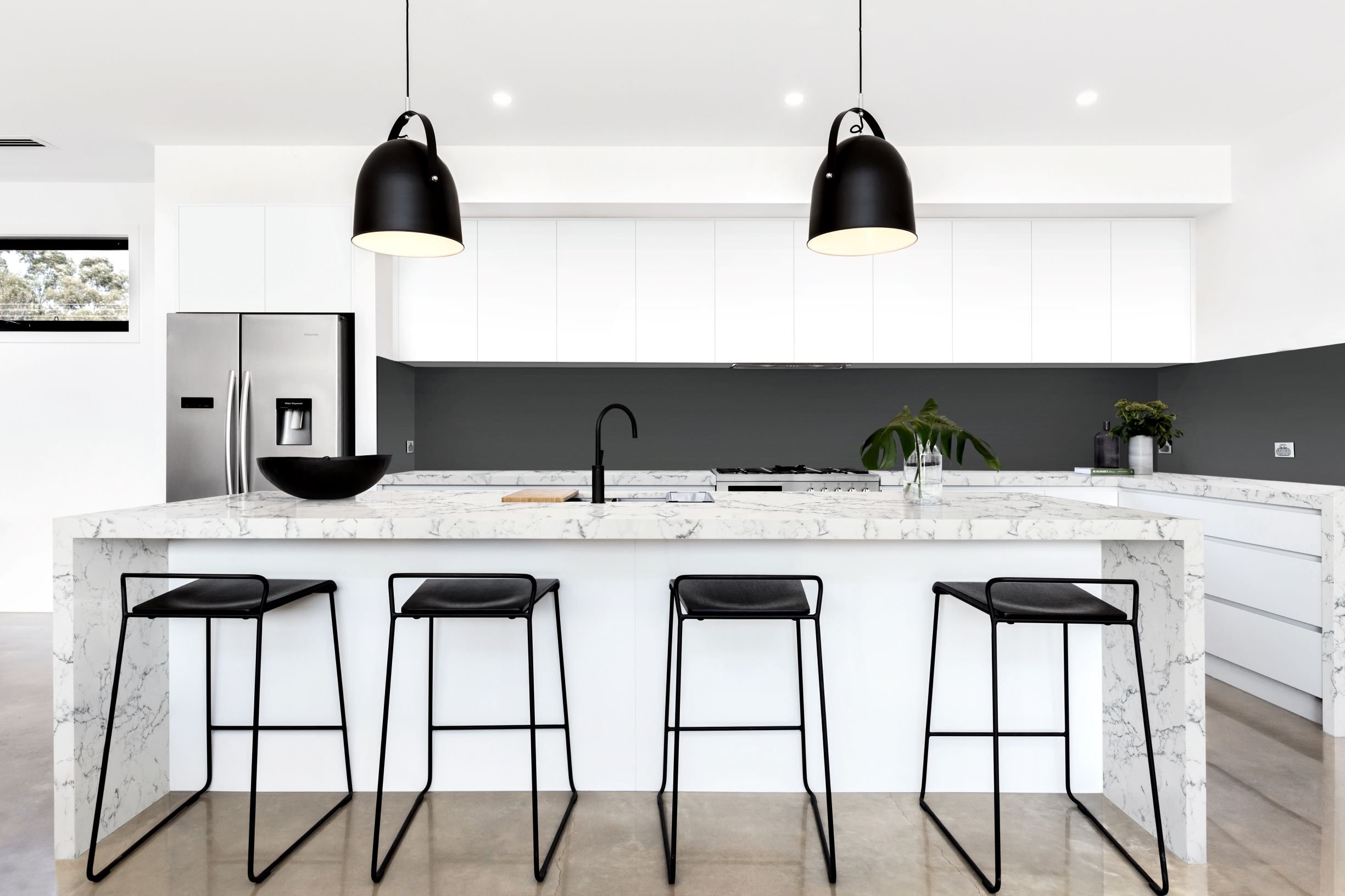 Sometimes, the exterior aesthetic of your home contrasts its interior style. For instance, your exterior architecture may lend itself to an artificial material, like the Alumiere Premium range, but your kitchen's interior calls for something a little softer, like timber. When this happens, it helps to have a frame that's dual-purpose, like Stegbar's Siteline collection. It's a frame with an aluminium exterior and timber interior, providing the best of both worlds.
Your Cart
---
No products in the Quote Drawer.
Your Stegbar Quote
item(s)
Attach Documents
(Plans, Reports, Photos)
---
Product Selection Summary
No products in the Quote Drawer.
Thank you for your quote request.
We look forward to helping you with your project.
Next Steps:
You will receive an email confirming your enquiry number.
A Stegbar team member will contact you within two business days to discuss your project.