Cut the clutter - How to simplify your wardrobe
From reworking your shelves and hanging spaces to upgrading your wardrobe with special in-built organisers, even controlling the ambience in your wardrobe through music and lighting to keep the space feeling 'zen', there are so many ways to simplify. So, let's roll up our sleeves and get to it.  
Your home should be a place of respite and relaxation, and minimal stress. To make this happen, tidiness is essential. But that's easier said than done, right? Rushing to get ready in the morning. Kicking off your shoes at the end of a long day. Letting a little bit of mess become a lot. It can all quickly cause clutter chaos. And one part of the home prone to this is the wardrobe. But let's take back control: here are a few ways to go about reorganising your wardrobe to avoid the fuss and stress.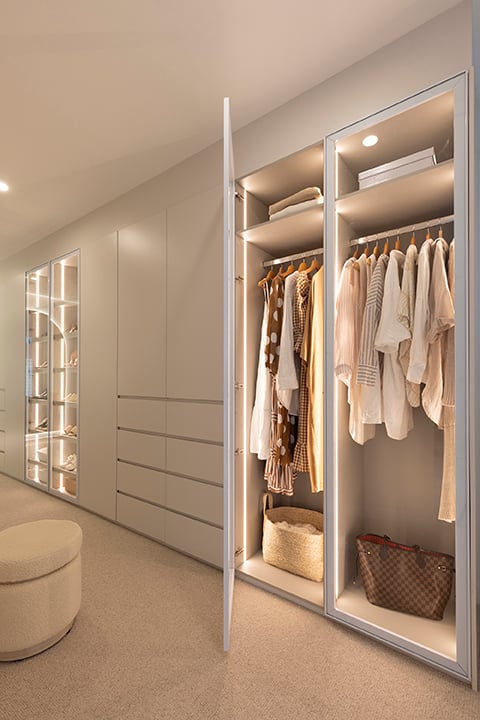 Get sorting with the box method
Find four boxes and label them each with 'keep', 'donate', 'throw away', and 'store'. Once you've got your four boxes, go through every single item in your wardrobe and categorise them based on the titles on the corresponding box. How you work out what you're keeping or giving away is up to you, but it might help to ask yourself some pointy questions. It doesn't need to be the Marie Kondo 'Does it spark joy?' method. Though if that works for you, go right ahead. Other questions to ask yourself might be, 'Do I love this? What is its use? Have I worn this item in the last year? Does it fit me now? Is it comfortable? Does it have a strange smell or is it broken or stained?' This might feel a touch ruthless, but it really can cut down on the amount of needless clutter caused by clothes and accessories you no longer love.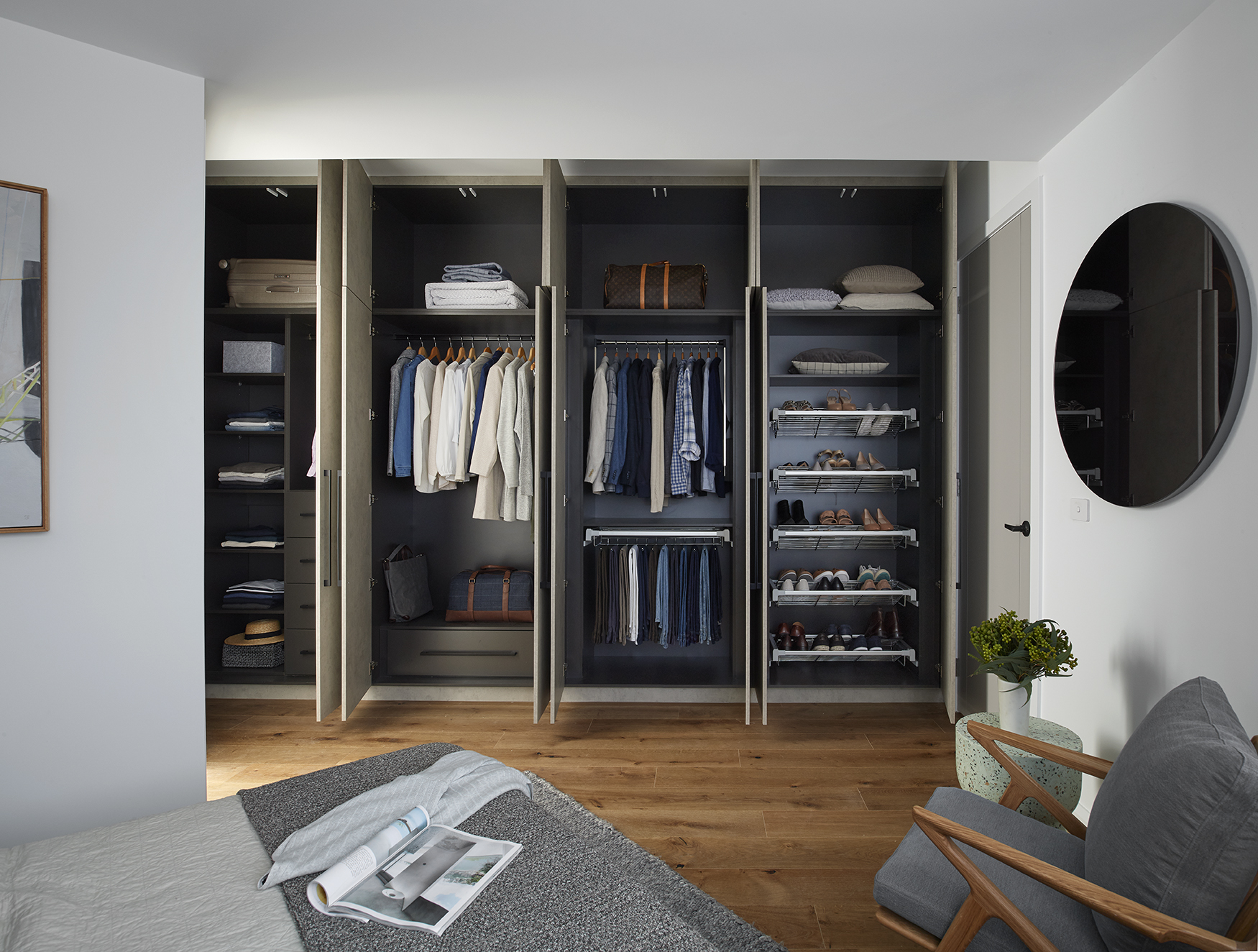 Look at your shelves with fresh eyes
Rethink shelving. The space that is traditionally used for drawers doesn't have to be for that anymore. Your wardrobe can be enhanced with far more functional accessories, such as shoe shelves and pull-out shoe racks, pull-out hampers, and glass shelves. Pull-out hampers are great for saving on floor space and also for hiding away unsightly clothes on the way to the laundry. If you want to safely display your jewellery then classy glass shelves combined with specifically designed jewellery trays are a fantastic and functional option.
Shelving space can be a lot more than just for storage. When you walk into your wardrobe you want your personality reflected back at you. What items and accessories are you most proud of? Shelving is such a great opportunity to put those precious items on display. Alongside any big and beautiful art books or even special-occasion perfume.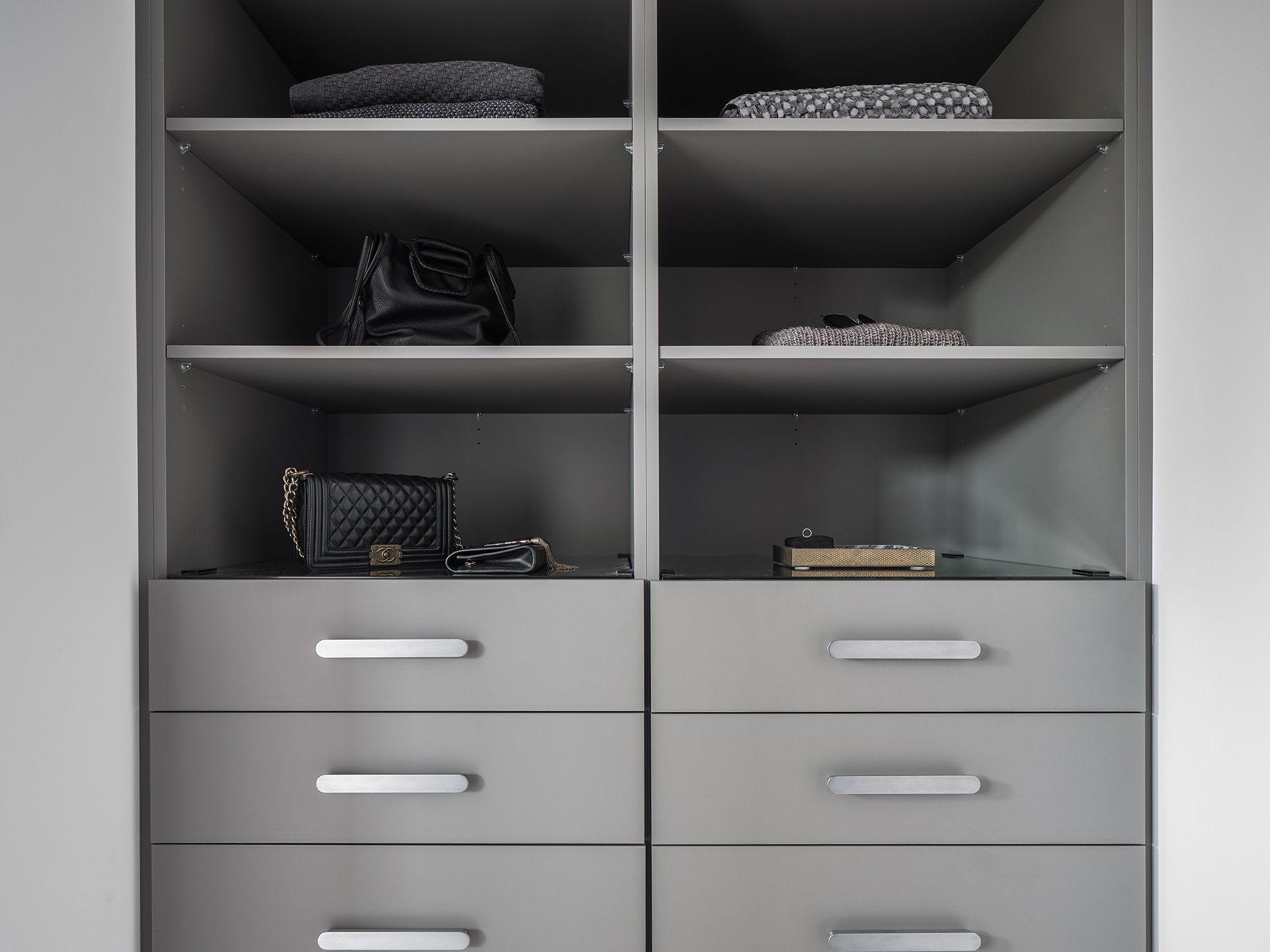 Make the most of your hanging space
Similar to shelving being not just for drawers anymore, so too with hanging space being not only for regular hangers. To make the most of your wardrobe have a look at what you actually need space for. Perhaps all your ties and belts are haphazardly resting over the back of a chair or are slung from a hanger. In this case investing in a tie and belt rack that is designed to hold these items without taking up extra space or rendering surfaces unusable for their proper purpose. Hanging rails don't have to be stationary, especially if you have a lot more vertical space than normal. Take advantage of that space and install a rail that you can pull down.
If you're having trouble working out if an item is loved and as worn as you think, a simple trick is to turn all your hangers the opposite way to how you normally have them. As you use them over the season you will automatically turn the hangers back to face the regular way. That means that by the time it rolls around to the next season you know for sure what items you have and haven't worn or used over the past three months and then be able to easily decide which items to give away.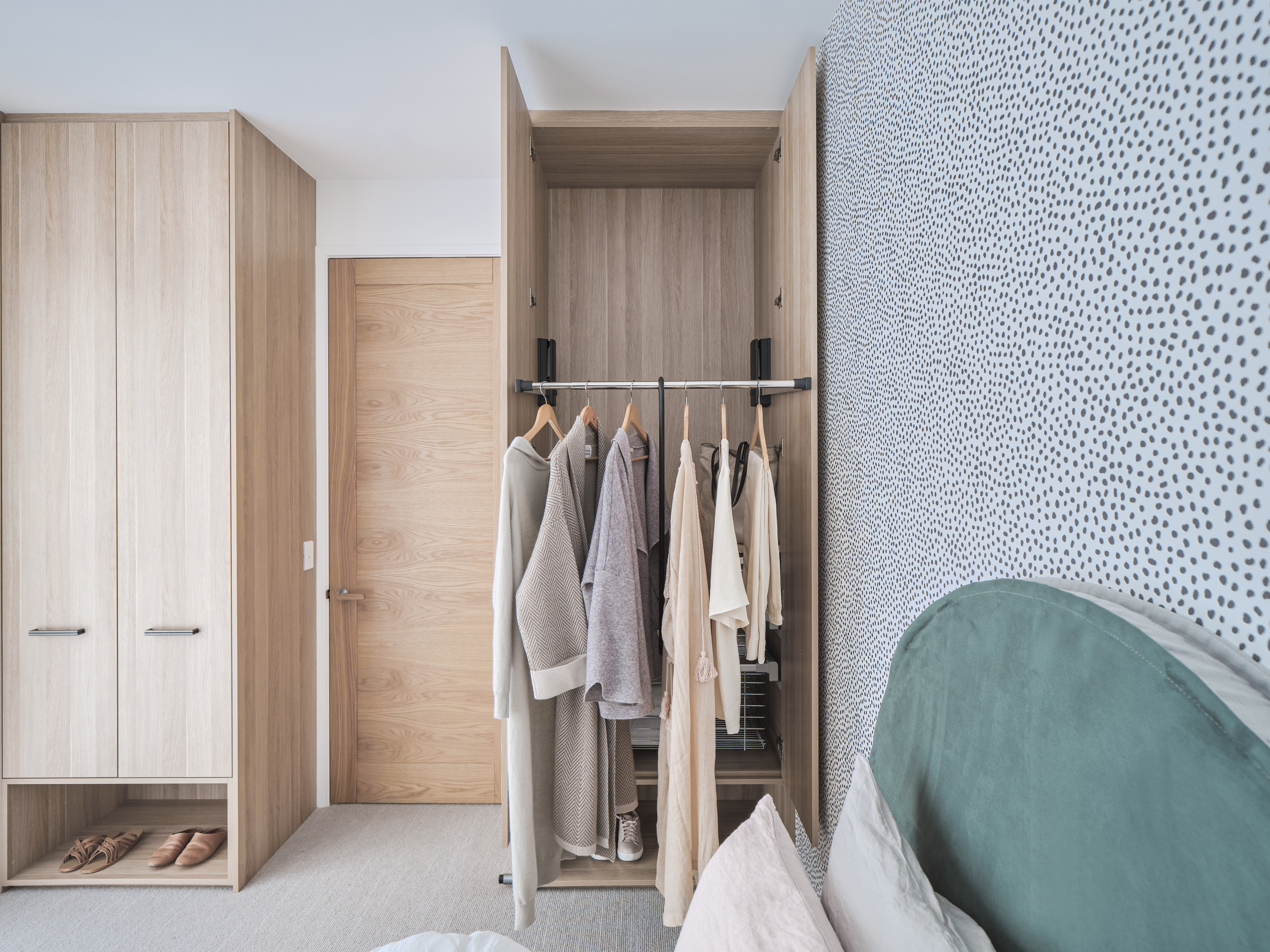 Create ambience to inspire a clutter-less lifestyle
Is there extra unused floor space that can be taken advantage of? Harness this free space by installing a tie and scarf swizzle rack or a pivoting mirror. When outfitting your wardrobe with all the necessary add-ons consider the lighting situation. Gone are the days of unflattering lights. You want to be able to see how you look, also be able to see what is in your wardrobe. Because of how customisable the Galleria wardrobe is, you can try out strip lighting for your shoe shelves as well as in corners and along edges to light up your hanging rails. Create a little ambience by installing a sound system that plays your favourite selection of music. A wardrobe isn't just for clothes and accessories either. Perhaps you have a beautiful candle, or a dried flower arrangement, or some art books on fashion. Create the atmosphere you want in your wardrobe – this space should evoke a calming feeling. It's all these little extras that make your wardrobe personal and extremely functional.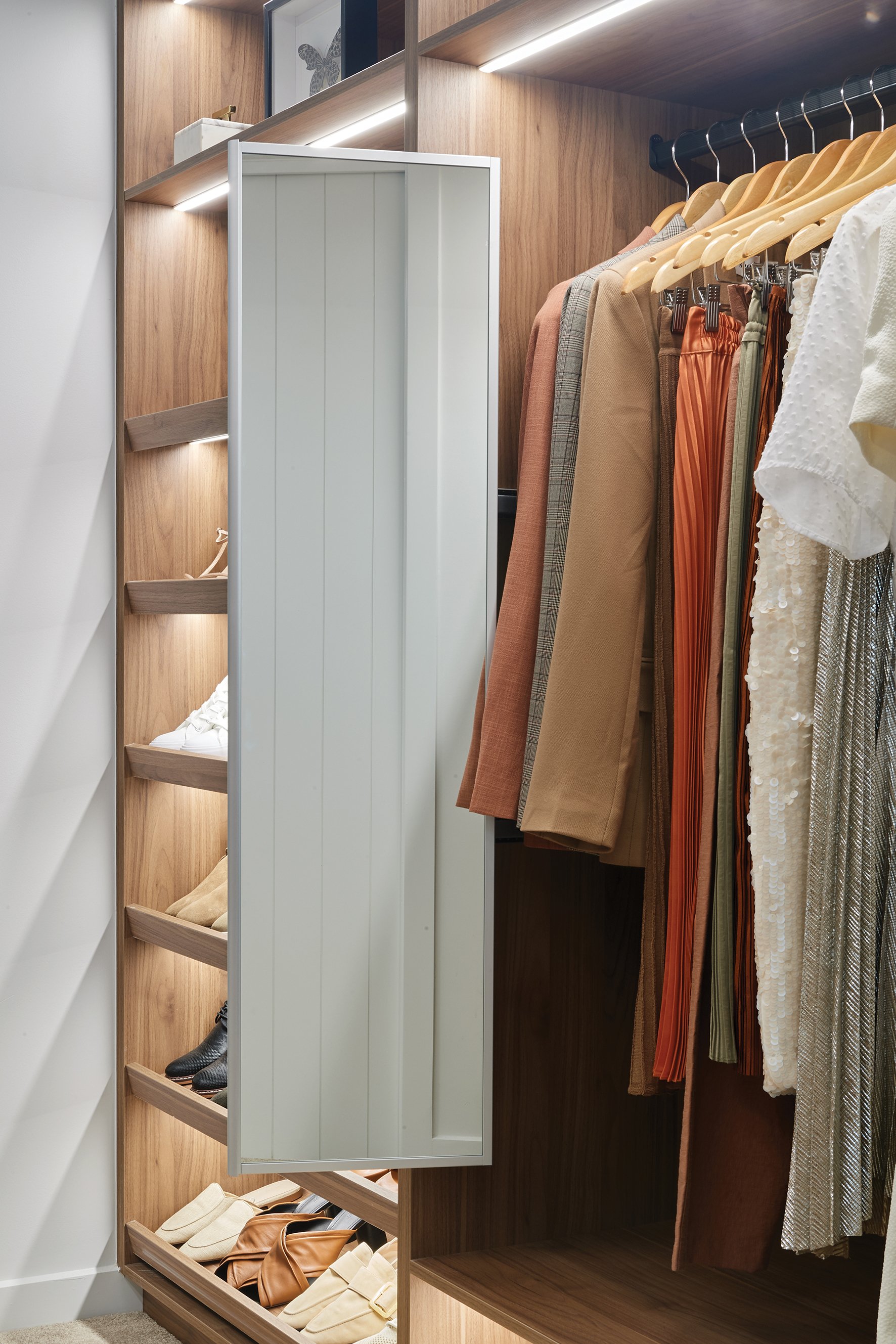 De-clutter by categorising
Organise your wardrobe by having each section for its own category. For example, going-out shoes, summer clothes and even precious jewellery. Keeping categories of clothing and accessories together helps save time when deciding on what to wear of a morning, try keeping your current most used items at eye level because this helps finding those items quickly, and it will aid in organising the seasonal change-over of putting clothes away at the start of a new season. You could also sort in another way, too, by sorting things into smaller collections according to their uses, like going out, going to work, and hanging around at home, and so on. That way, you'll cut the clutter and always have the right outfit.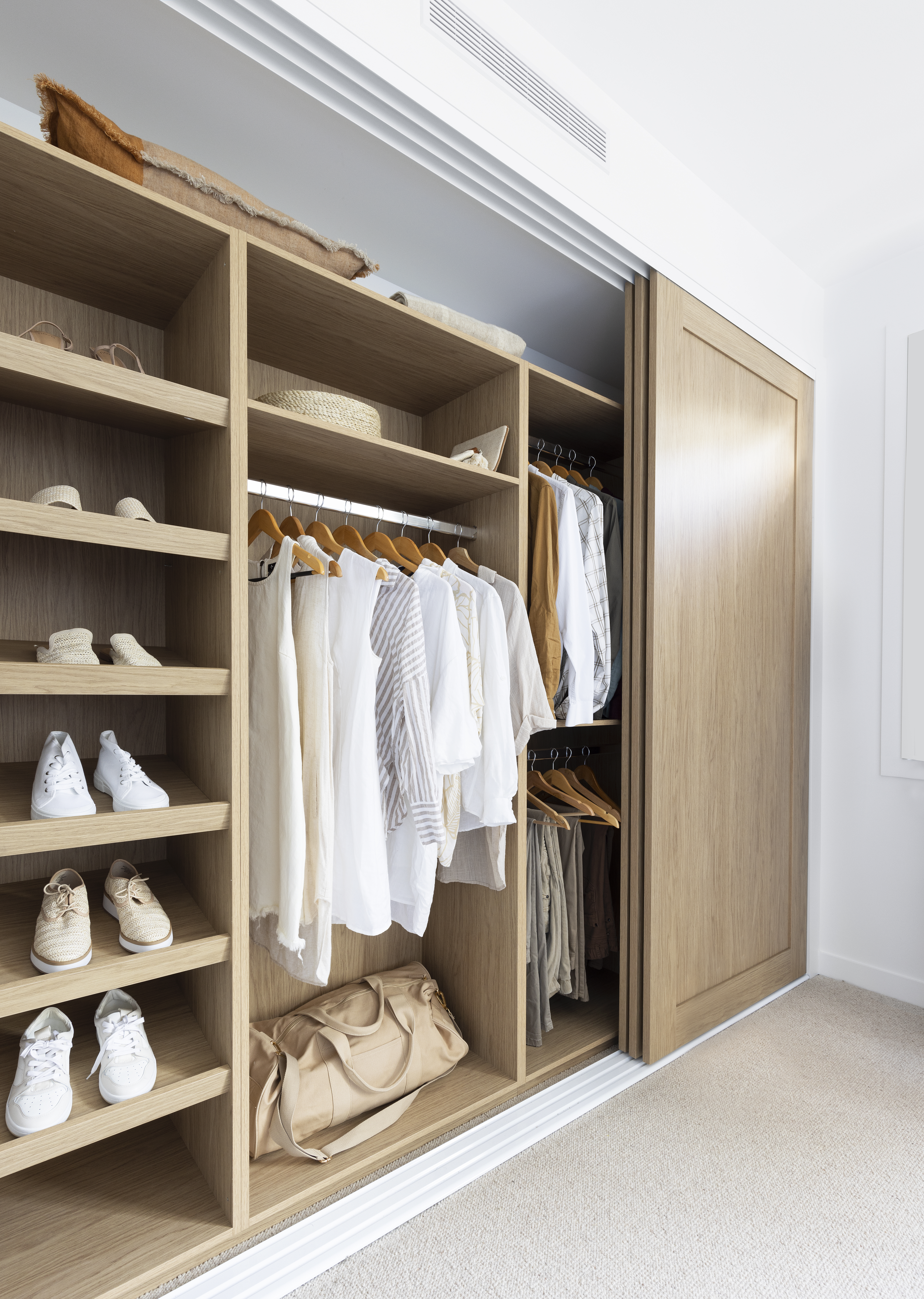 Face your messy fears by folding
What would a de-clutter article be without mentioning Marie Kondo? Her method of folding is a smart space saver that will make your life easier. What is it, exactly? She recommends folding your clothes and stacking them horizontally rather on top of each other, so that you can see all of your options when you open a drawer. Another tip: try folding your clothes like a department store folds clothes. Make each item neat and visible, do up all buttons and fold along seams for crispness and unwanted creases.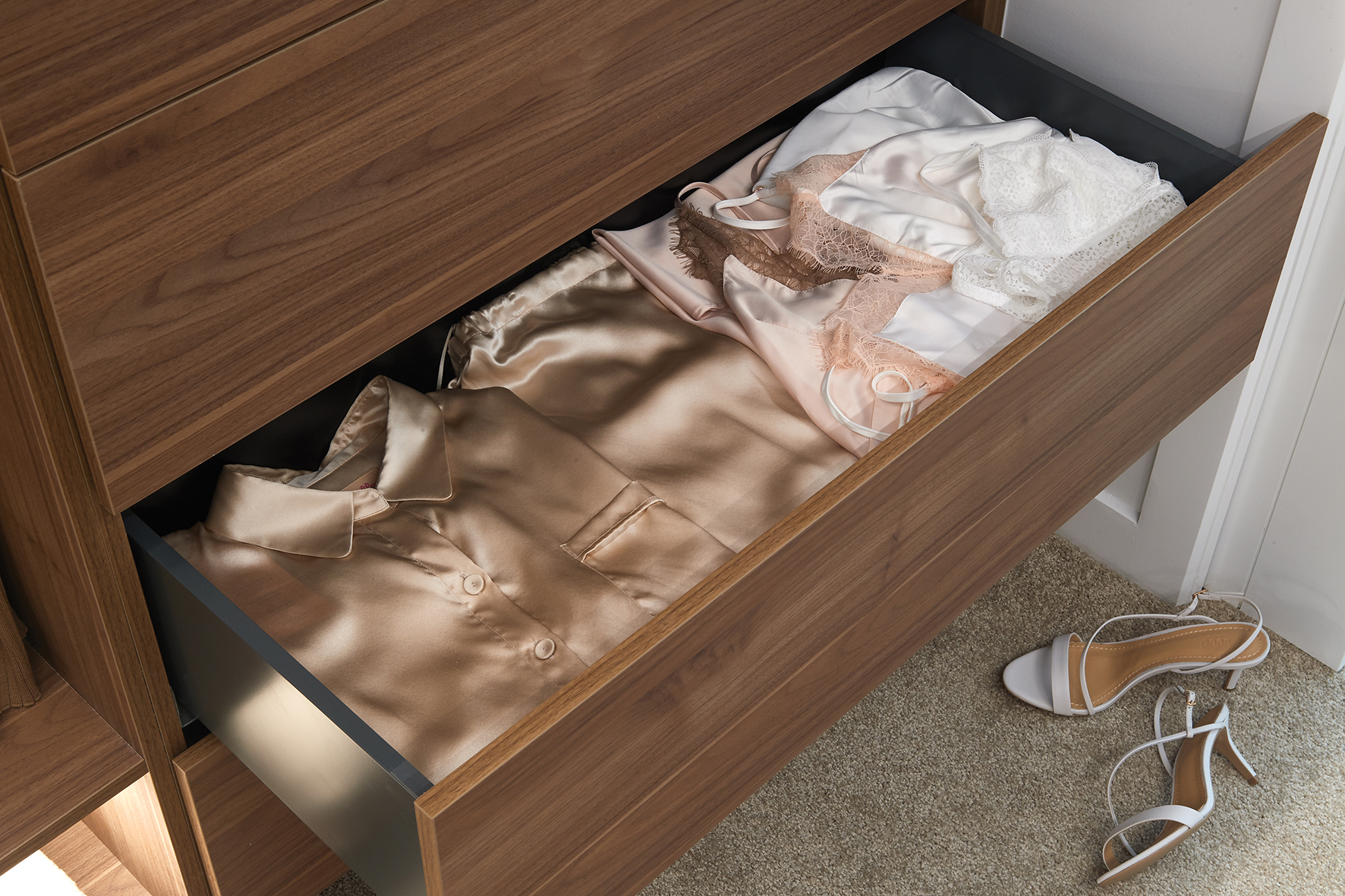 Your wardrobe should work for you
In the end, you want your wardrobe to be functional, reflect who you are, and help you live your best life. The last thing you need is clutter getting in the way of your day to day. So the next time you find the mess piling up, try these tips to get back in control.
For custom, made-to-measure wardrobes designed to solve your storage needs, talk to Stegbar about a Galleria wardrobe. Or call us on 1800 681 168, or visit your nearest Stegbar showroom for a consultation.
Your Cart
---
No products in the Quote Drawer.
Your Stegbar Quote
item(s)
Attach Documents
(Plans, Reports, Photos)
---
Product Selection Summary
No products in the Quote Drawer.
Thank you for your quote request.
We look forward to helping you with your project.
Next Steps:
You will receive an email confirming your enquiry number.
A Stegbar team member will contact you within two business days to discuss your project.