Elevate your Wardrobe with Danish Design Hardware
Danish design's influence is iconic, but you might be wondering what Danish design actually is. A good place to start when trying to channel this style, and more broadly, a Scandinavian aesthetic, is to discover its essential elements.
Danish design is celebrated for its minimalist and cosy aesthetic. It prizes craftsmanship and champions a sense of gentle order. As the style has grown in popularity over the last few years, many are looking for new ways to bring its elements into their homes. Our new Galleria range of wardrobe hardware, created in collaboration with Danish designer Furnipurt, alongside European makers Hafele, takes considered inspiration from the classic and modern elements of Danish design.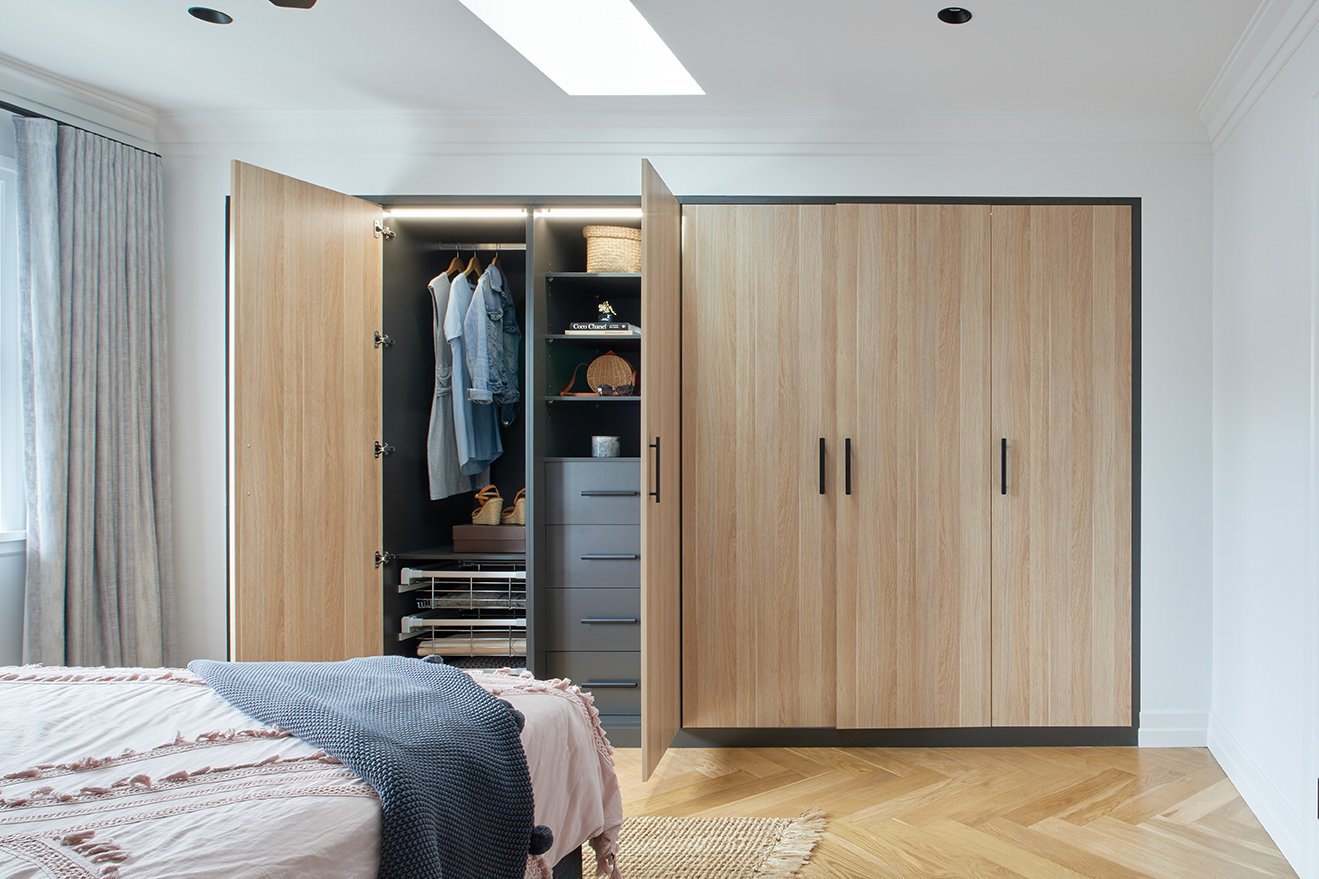 Finish: Natural Oak, Hardware: T31 Matte Black
Colour
Natural and nuanced tones are the staples of Danish style, but in contemporary design the colour palette is much more varied. Contrasting black and white are ever-present, while nature-inspired shades of green, brown, stone and wood are fundamental to this Scandi aesthetic. So, too highlights of silver, gold and brass. These fundamental, base colours and tones set the scene. From there it's up to your creativity to add pops of colour and shimmer that really bring the whole look together in your home. Think bright rugs, pillows, throws, trinkets and artwork that inject interest and fun. Choosing the right hardware for your wardrobes, whether it's the contrast of black or the shimmery pop of gold, will help you create a classic Danish vibe and from there it's over to you to further elevate your space.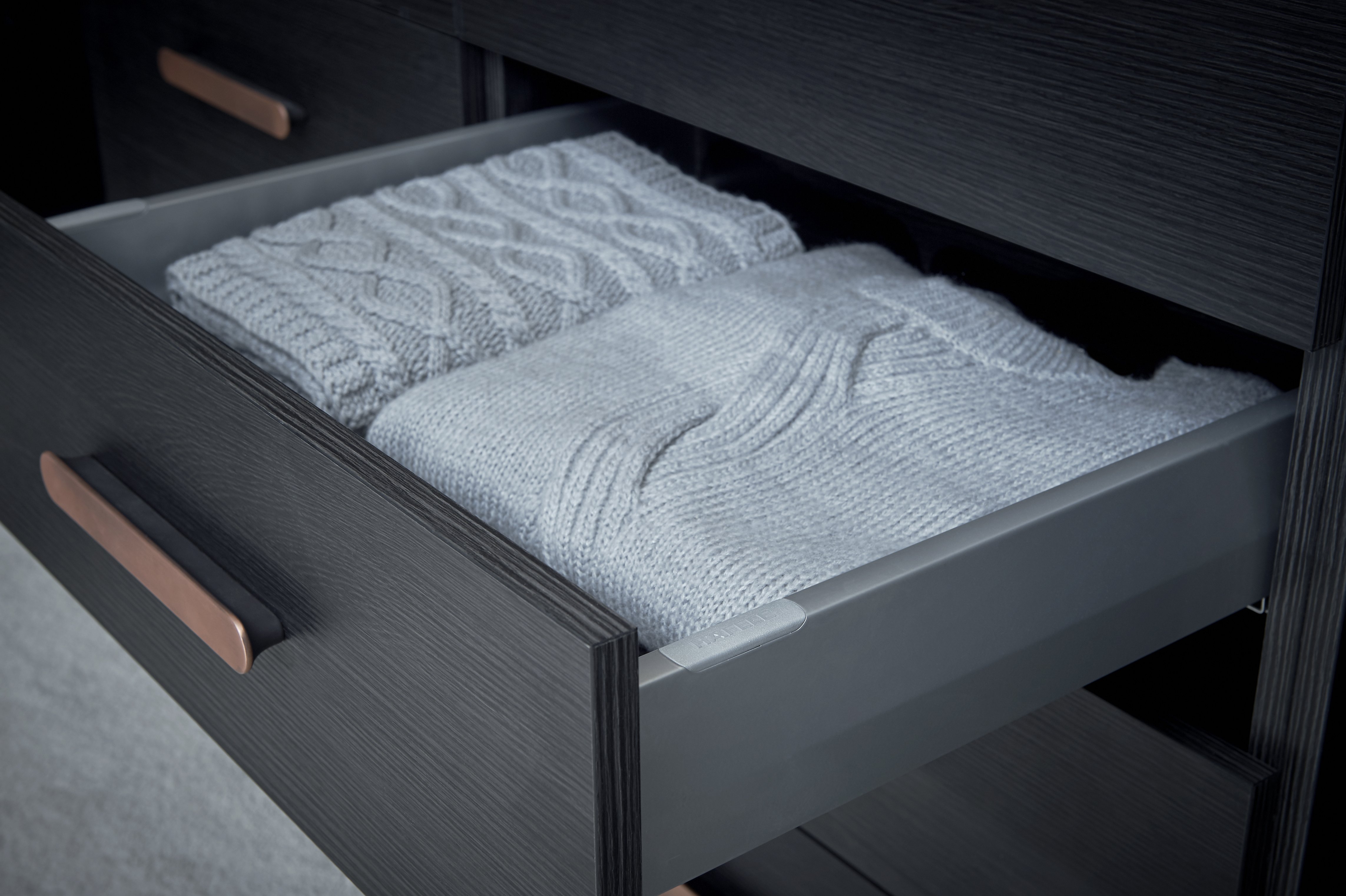 Finish: Black Wenge, Hardware: C20 Copper
Shapes
When it comes to shapes, clean outlines and geometric forms are a big deal in Danish design. Shelving, furniture and lighting can all be used together to create this sleek and streamlined aesthetic. From this foundation of clean geometry, prints play a big part in creating the right look – from framed art and wallpaper to cushions and rugs. Scandinavian-inspired graphics and patterns are very much on trend when placed in a classic Danish-designed context. But geometric doesn't just mean straight lines. On the contrary – curves are a welcome feature, too. Our range of Galleria wardrobe hardware comes in a wide range of beautiful shapes, from the clean and angular to the curved and elegant, and sometimes a combination of both, making Galleria a great inclusion if you're looking to inject Scandi vibes into your home.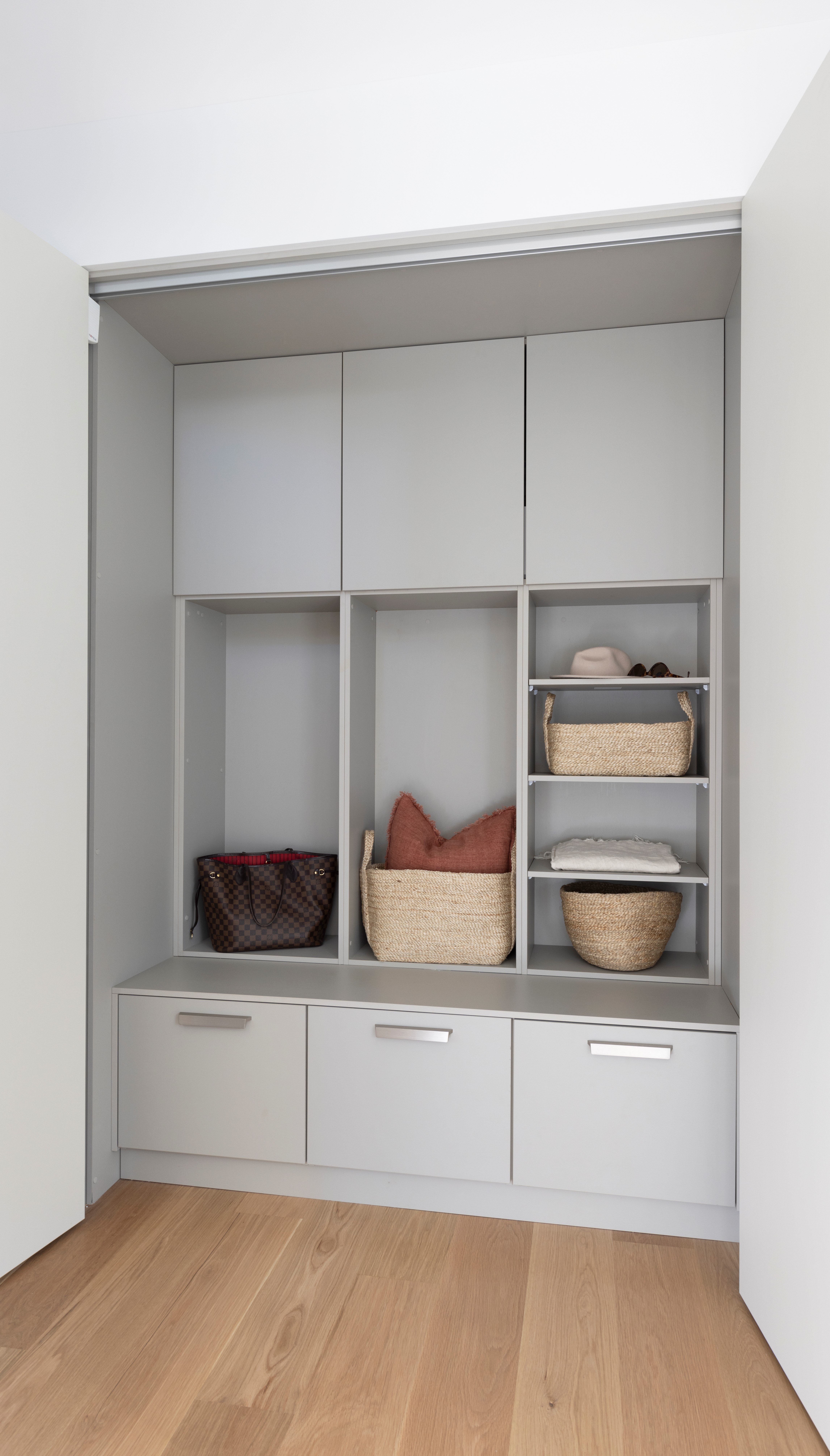 Finish: Bespoke, Hardware: T23 Inox
Materials
One of the main principles of Danish design is incorporating natural materials like light and brown wood, nature-inspired art, house plants, and raw fabrics such as wool, mohair, sheepskin, linen and jute. This strong relationship with nature extends to creating open and spacious rooms that let in maximum natural light and prioritise views from the outside. Using eco-friendly and sustainable materials is also a prominent feature of the Scandi design. These subtle, elegant tones are the perfect basis to add your hardware styling to – whether a bold and striking matte black or the softer, refined elegance of brushed brass and gold, or perhaps something in between. Our new range of wardrobe hardware offers a range of finishes that allow you to go either way, bold or soft, in your bedroom.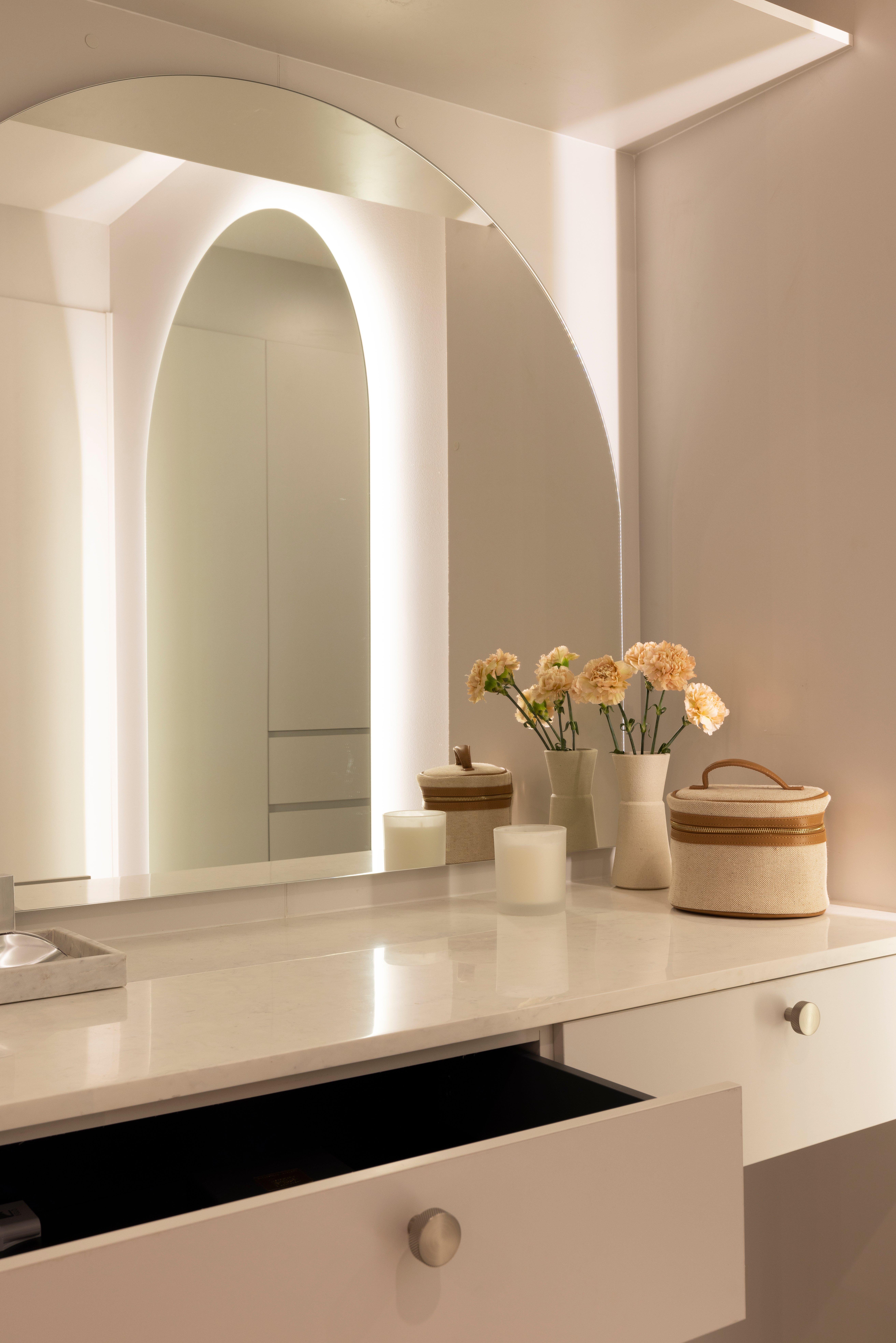 Finish: Aston White, Hardware: T35 Inox
Styles
Scandinavian style is characterised by minimalism and functionality, aiming to provide simple ways of improving daily life while remaining affordable. The 'less is more' approach results in spaces that are organised and free of clutter, yet still feel warm and welcoming. A quality that can be largely attributed to hygge – a Danish word that loosely translates to 'cosy togetherness'.
On top of considered use of colour, shape and materials across your home, from your cabinetry, to your flooring to your hardware, some simple ways you could introduce that feeling into your home is to add candles, soft blankets, and anything else that evokes comfort.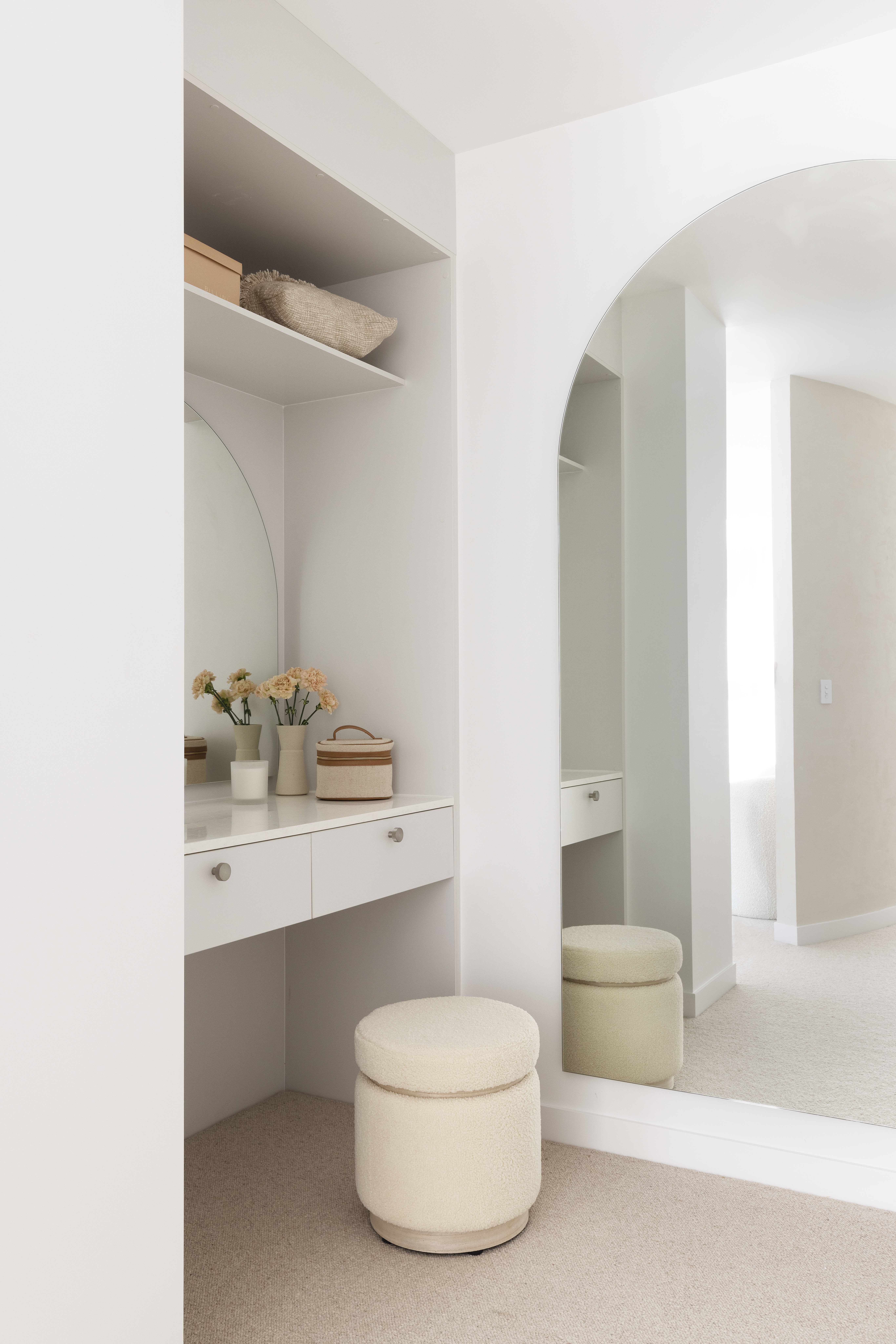 Finish: Aston White, Hardware: T35 Inox
Discover the Danish design fundamentals and add a touch of Scandinavian style to your home with our range of beautiful Galleria wardrobe hardware. To find out more, call 1800 681 168, place a website enquiry or visit us at your closest showroom.
Your Cart
---
No products in the Quote Drawer.
Your Stegbar Quote
item(s)
Attach Documents
(Plans, Reports, Photos)
---
Product Selection Summary
No products in the Quote Drawer.
Thank you for your quote request.
We look forward to helping you with your project.
Next Steps:
You will receive an email confirming your enquiry number.
A Stegbar team member will contact you within two business days to discuss your project.