How Christal Fysentzou Created The Zouhouse Look
ZouBuild's Christal Fysentzou shares her inspiration behind the design of Zouhouse.
In creating the styling of Zouhouse, Christal Fysentzou of ZouBuild made Scandinavian and Mediterranean style meet under vaulted Queenslander ceilings – and with this unique combination, created the Zouhouse look.
Christal had a clear vision for her family home. She wanted organic textures with clean, simple lines and curves. And she wanted to create beautiful spaces for her family to love living and playing in. Here, she tells us about how that vision formed, where she got her inspiration from, and how the home tells a design story through the textures, design elements and the products she selected.
Christal's starting point for inspiration
Christal approaches the creative process by discovering inspiring imagery from any number of places, including Instagram, Pinterest or even a print magazine.
For Zouhouse, she started with a number of pictures featuring beautiful, striking gables. This mix of images combined into the beginnings of the look. "With Zouhouse, it wasn't necessarily a single picture. It was the whole gable design that started it all, and the rest just fell into place from there," she explains.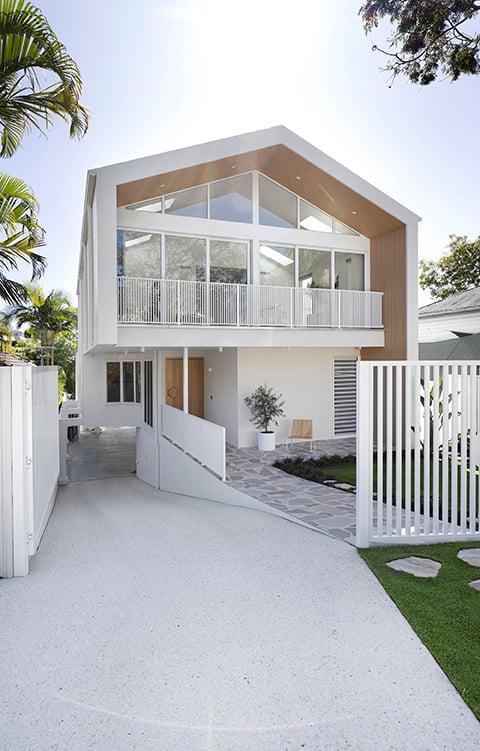 Where Scandinavian and Mediterranean style meets
Christal and Chris have always been fans of minimalistic Scandinavian design and are both of Greek heritage. They wanted to be inspired by their favourite style while honouring their background. So, they decided to blend both the styles that they love. "We meshed the two together and created Zouhouse," Christal says.

They deftly combined the different styles throughout the home. The front façade hints at a Scandinavian aesthetic, while the inside has plenty of organic tones and textures throughout – a nod to the Mediterranean.

The staircase features rendered micro cement on its curved walls – creating a textural and organic feel that continues through the house. These curved rendered walls continue throughout the kitchen, living and dining spaces. The lounge includes a feature Venetian-rendered wall, lit with natural light pouring in from the skylights above. Textured render also features on other elements of the home, including the kitchen island bench and the range hood. It's this consistent approach that connects the spaces together.

"I think it's really important to keep telling a story throughout the house with small features here and there to connect each space," Christal says.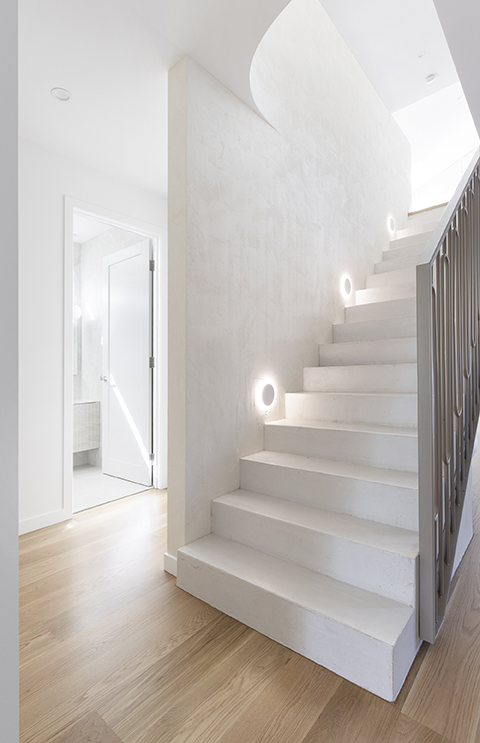 How Christal chose products to make her interior style

When it came down to selecting interior hardware and products, Christal called upon her years of experience and brands she trusted. "We only used products recommended or brands we've used before," she says.
Christal wanted minimalist design while keeping the palette neutral with organic tones. Plentiful natural light from the large Stegbar Alumiere doors and windows, combined with the natural-toned timber flooring, which matches neatly with the Corinthian Elements entrance door, all helps create that organic feel.
Christal emphasises how she chose her doors from Corinthian, too. "I'm not a fan of plain doors, so we chose Corinthian. They add that little bit of something extra to the space," she says. The internal doors are from the Moda range, and she decided on the Manhattan door for the study.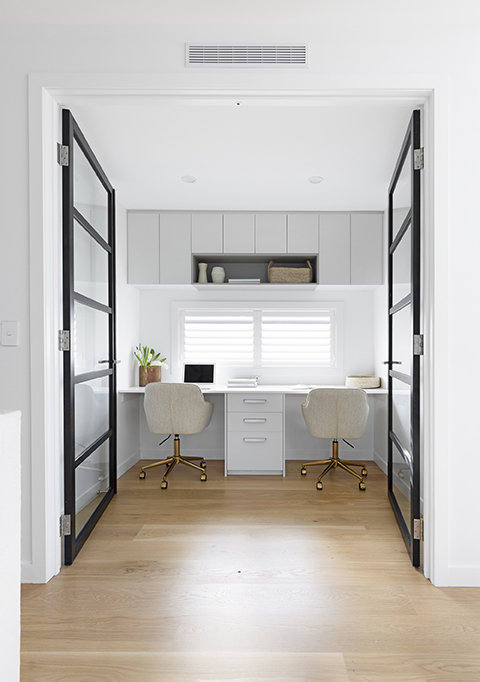 How Stegbar products helped make the look
With large, eye-catching windows throughout, the home embraces the abundant Queensland sun. Christal chose the Alumiere range for the front and rear as impressive feature pieces for the home. For the sides of Zouhouse, she chose Stegbar's Residential range because they matched her style story but are also cost-effective for those areas of the house that don't need a statement piece. Both Stegbar window ranges are made from aluminium and were colour customised to be shades of white, creating those crisp, clean lines for that classic Scandi-style.
Christal highlights the upstairs living room with the vaulted ceilings and Alumiere doors as her favourite space in the home. She loves how the natural light fills it up, making the space bright and refreshingly breezy. Breezway Louvres were selected in the home to encourage airflow and ventilation, including along the curved wall in the front entry area as a special feature.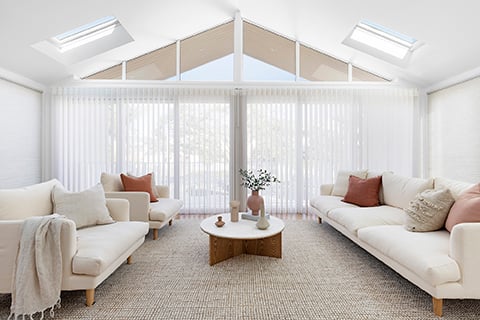 Christal's top tips to create your own style
Christal has three essential tips for anyone planning the design of their own home.

Tip 1:
"Stick to a more neutral palette with your selection so that your home doesn't date," she says. And for pops of colour and trendy shades and textures, choose easily changeable items such as soft furnishings, curtains and rugs. That way, you're not ripping up brightly coloured tiles after only five years.
Tip 2:
"Keep it simple." She says not to overdo it with too many features – just have one hero per space.

Tip 3:
"Always keep longevity in mind." She explains that you want your interiors to be long-lasting and timeless in style because renovations can be expensive. So, spending more initially can be more economical than using cheaper and lower quality products first and having to change them down the track.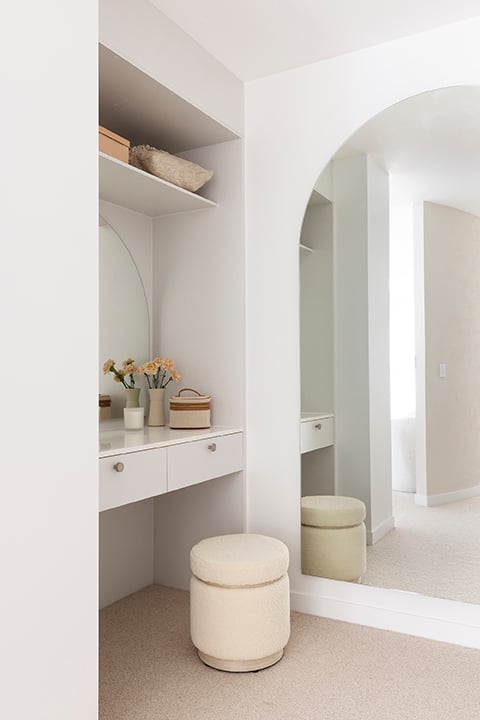 To talk to our friendly staff for selection advice on your next renovation, visit your local showroom, get in contact or call 1800 681 168.
Your Cart
---
No products in the Quote Drawer.
Your Stegbar Quote
item(s)
Attach Documents
(Plans, Reports, Photos)
---
Product Selection Summary
No products in the Quote Drawer.
Thank you for your quote request.
We look forward to helping you with your project.
Next Steps:
You will receive an email confirming your enquiry number.
A Stegbar team member will contact you within two business days to discuss your project.