Design Tips: How to make the Bedroom a Sanctuary
Well known from their time on 9Life's Ready Set Reno, married couple Christal and Chris Fysentzou are a successful build, renovate and design duo based in Brisbane. We recently spoke with Christal, the interior design guru for their business ZouBuild, about turning a bedroom into a sanctuary.
Our bedrooms have become more than just places to sleep. With exercise and meditation routines, and hybrid working from home and office, we rely on our bedrooms more than ever before. They've almost become a one-stop shop for our lives, but it can be tricky to make them spaces that help us work and play. How can our bedrooms give us what we need in our busy, modern lives while functioning as a place for peace, relaxation and rest?
Christal Fysentzou from ZouBuild is an interior designer who knows a thing or two about turning a bedroom into a haven. She tells us how bedrooms are a very personal space and shares her wisdom from her years designing bedrooms.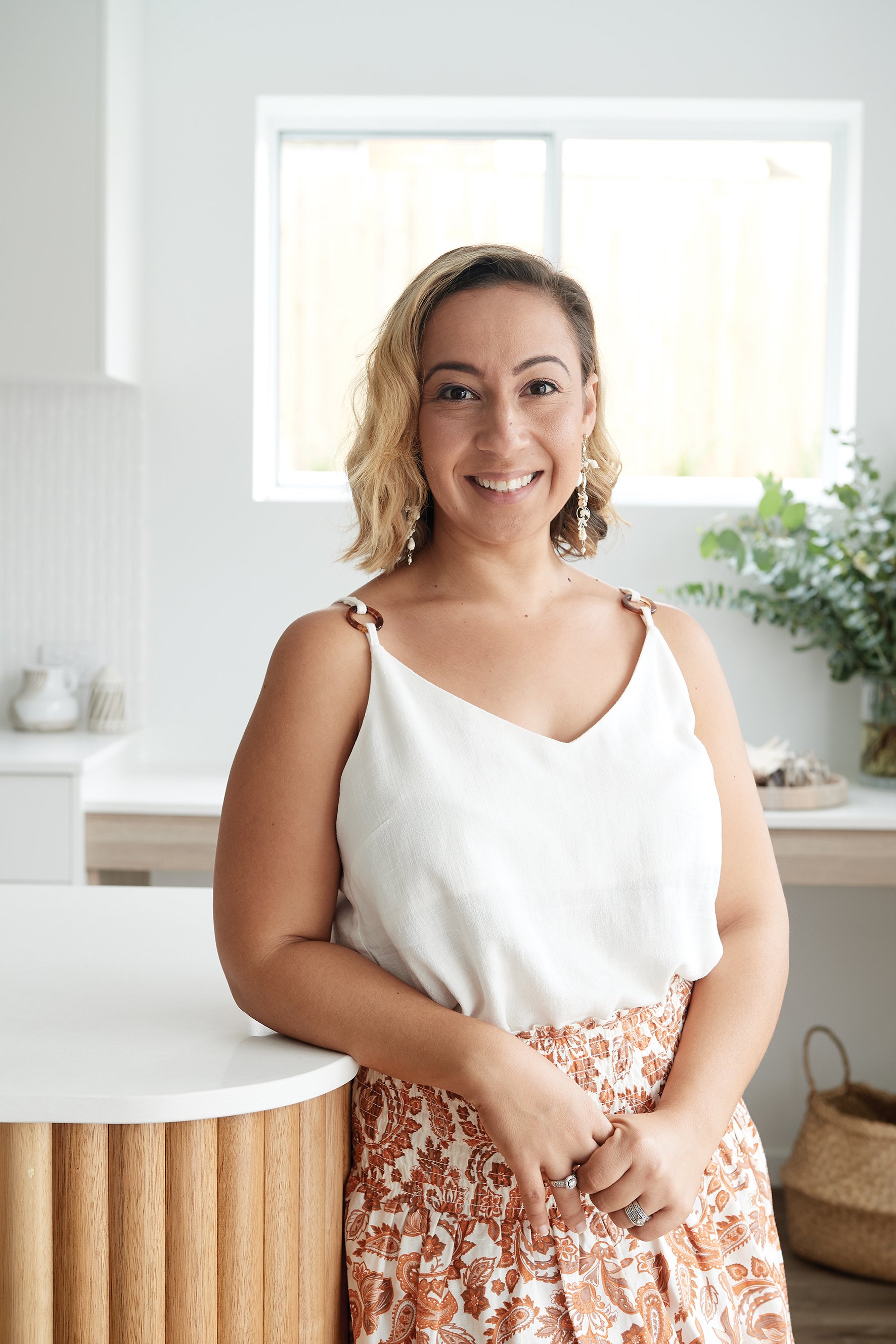 Christal Fysentzou
Embracing flexibility
People are rethinking their bedrooms, Christal tells us. "I'm finding a lot of couples are now making their bedrooms into a master retreat where they have a loungeroom and more," she says. And she's noticing that couples also want to dedicate spaces in their bedrooms to accommodate workspaces.
In ZouBuild's latest project, Zouhouse, Christal tells us that they designed a guest bedroom that doubles as a home office space. To turn the domestic into the professional, they even added a Stegbar fixed panel window in the house's front, which, if need be, can be removed and turned into a door. This would create a working entrance that is separate and private from the rest of the home. It's this type of flexible design that reflects today's needs.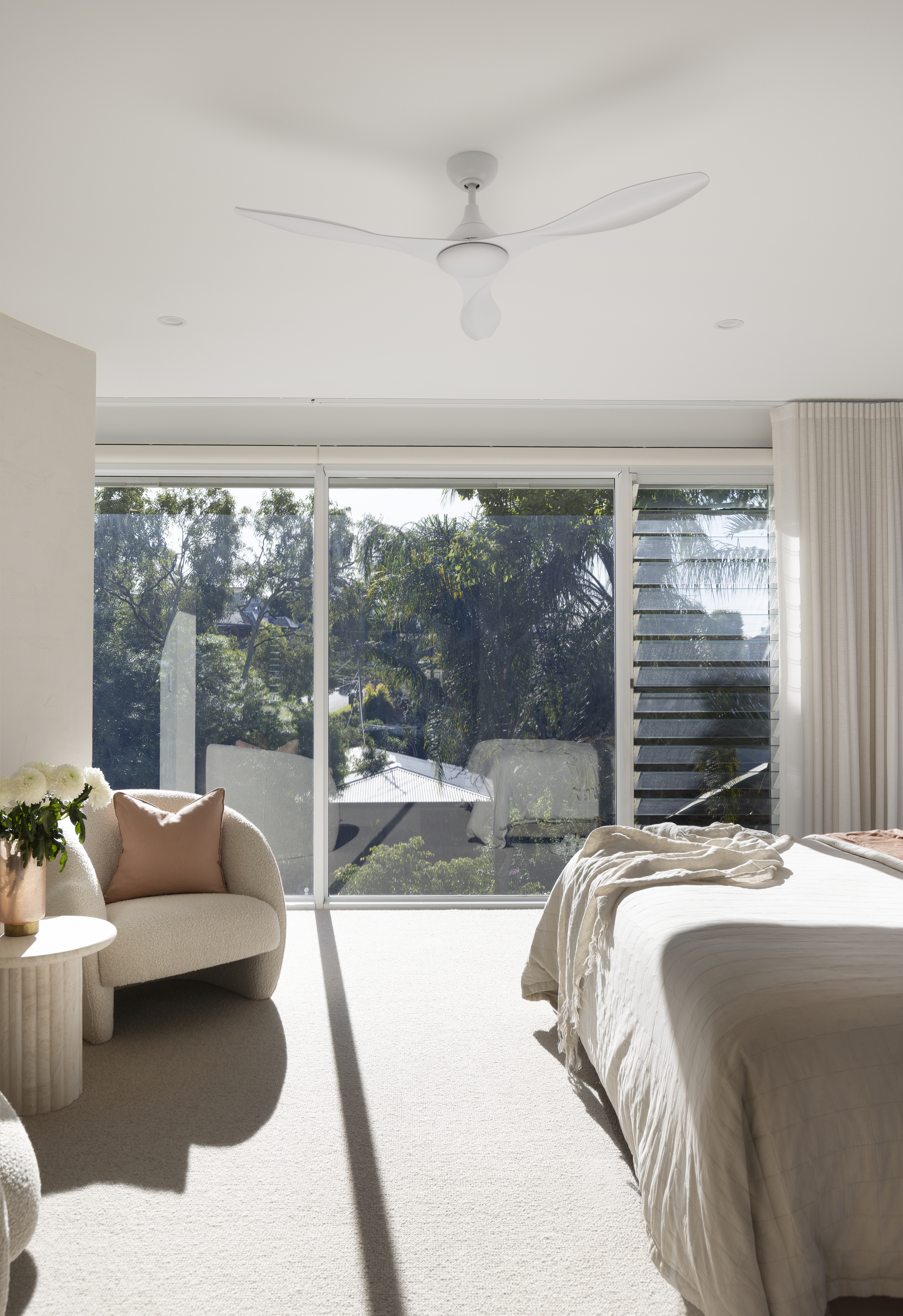 Turning ideas into reality
Christal first works out her clients' requirements for their bedrooms. It depends on the brief that they give her, then she will talk through that brief with them to understand their needs and together reach an agreed vision. "I feel like the bedroom is the one space where you really need to listen to a client's needs and wants," she says.
"The bedroom is their personal space – it's where their downtime happens." — Christal Fysentzou
She says every client has different lifestyle needs, and their bedrooms reflect that. So, she works hard to make sure that they will be happy with the outcome.
Continuity is key
The overall design of the adjoining spaces to a bedroom, such as ensuites and walk-in robes, are essential to creating a cohesive master bedroom suite, Christal says. So their colours and style should all feel thematically united. In a design sense, she treats all these spaces as one rather than several – this continuity makes all elements of the master bedroom seamless and connected.

"I generally like to pick my artwork, and then I choose matching linen for my bedding so that there is a little bit of colour or something connected." — Christal Fysentzou
Zouhouse is an example of this approach. She says she always tries to pick bedding that will complement the artwork for that connection. "The whole space has a continuous feel through it," she says.
Making your own Zen zone
Christal believes it's important for the master bedroom to be a neutral space with plenty of softness – soothing tones and no harsh elements. This is because your bedroom is your retreat, so keeping it free of overwhelming colours, patterns and overly hyper-visual information is key to keeping it a peaceful space. "It's your place of rest. Make it a Zen zone," she says.
Christal has some simple advice on how anyone can elevate their bedroom. She likes to use soft furnishings, like curtains, for windows. An easy trick to get soft natural light in your master bedroom is incorporating sheer curtains for the daytime. You want your bedroom to have a peaceful and luxurious atmosphere and feel different from the rest of your home. And the use of natural light can soften any harsher tones in the space.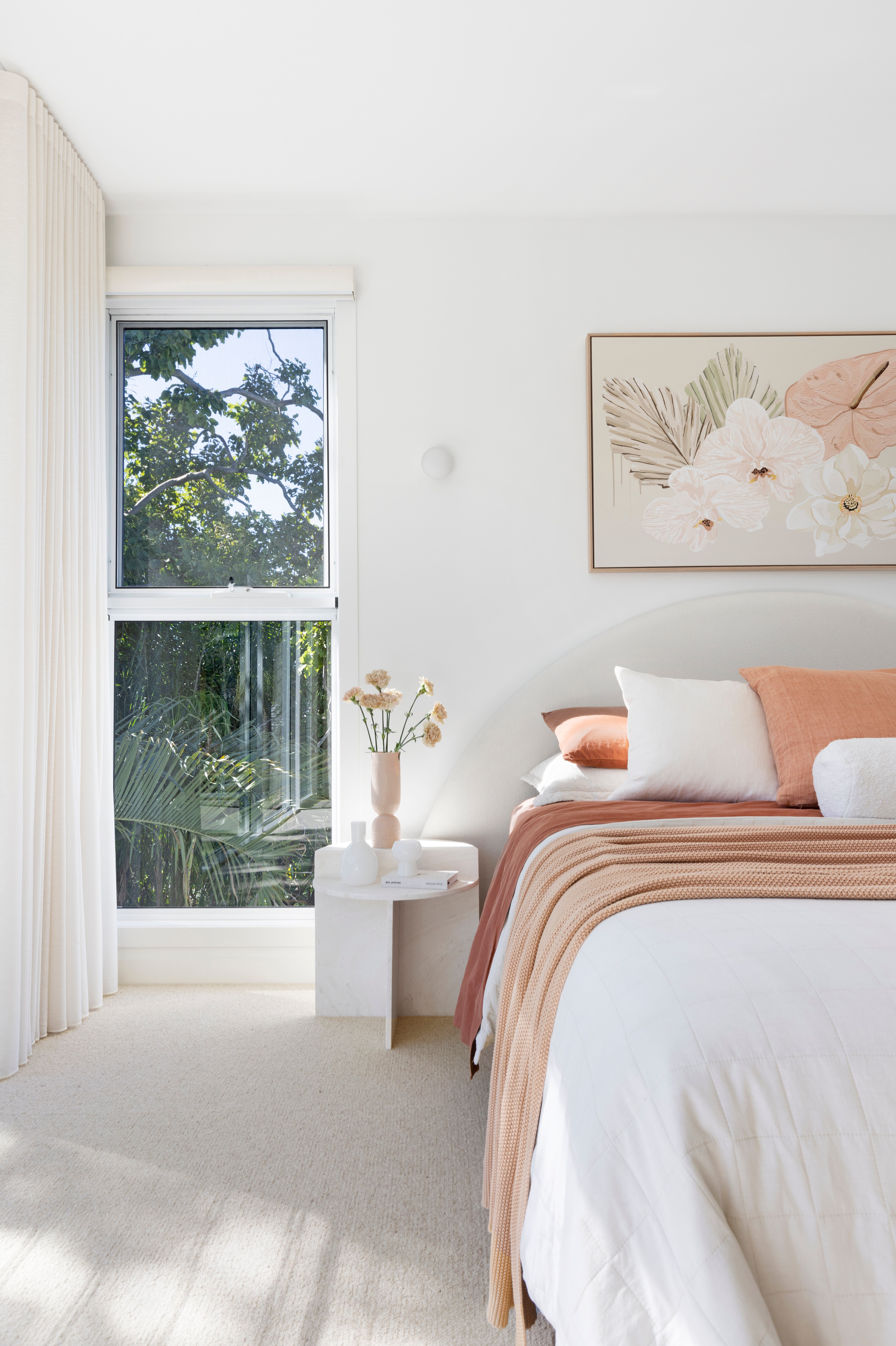 In the master bedroom at Zouhouse, Christal tells us, she achieved this open, soft space by incorporating Stegbar windows and louvres for plenty of natural light, which flows through into the large Galleria walk-in wardrobe. This connection gives the whole space a continuous, smooth look and feel – a purposeful design that is integral to the peaceful and luxurious atmosphere she has cultivated.
Christal tells us she prefers to use Stegbar products in her designs because of the quality and high-end feel. The Galleria collection, especially, can elevate a wardrobe into a stylish and functional dressing space thanks to its on-trend designer colours, finishes, hardware, accessories, and intuitive lighting and music. "I like using the Stegbar Galleria range because it adds a luxe feel to any bedroom space," Christal says.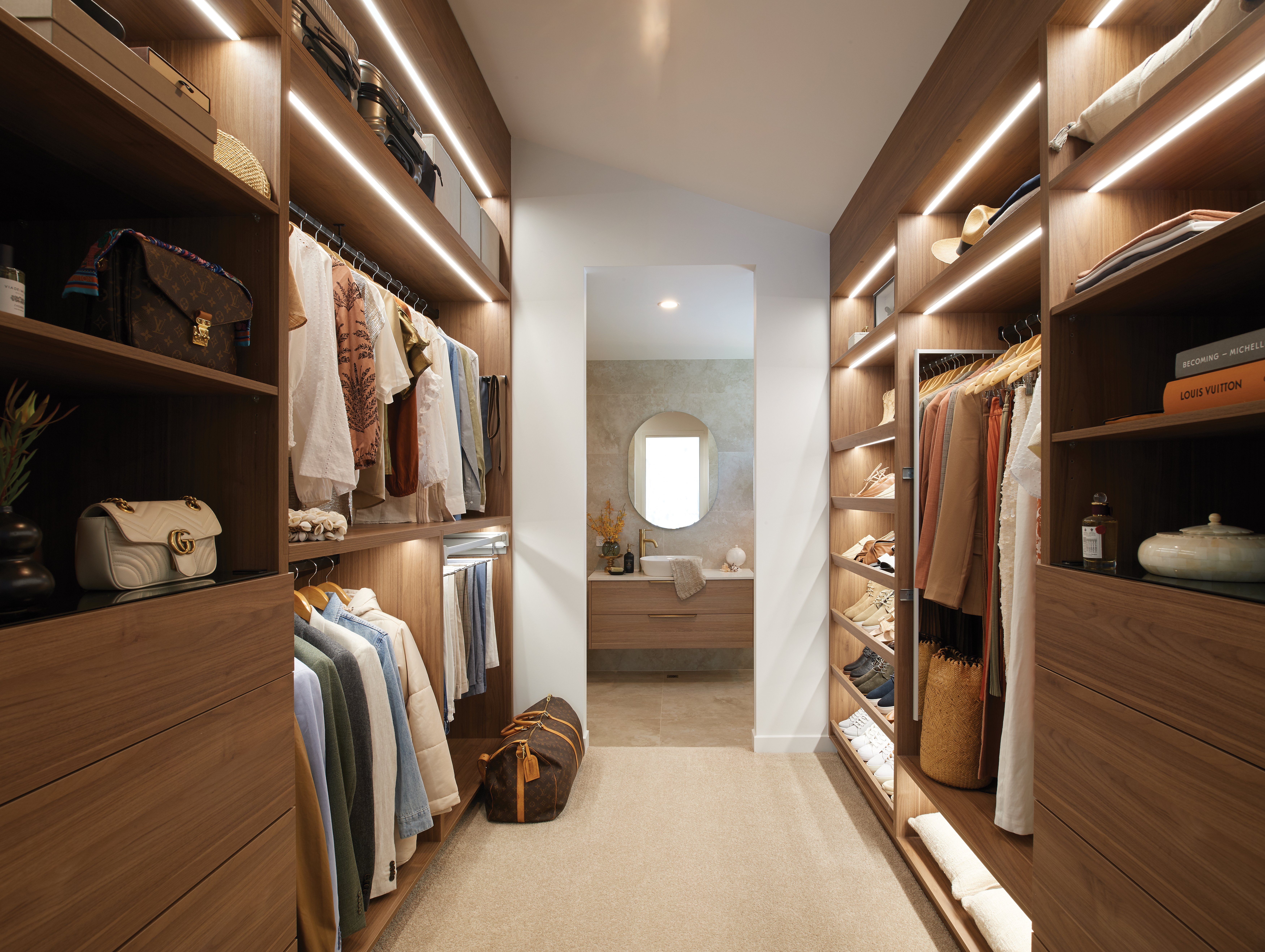 Imagine your room, plan it out and make it happen
Christal recommends getting a mood board and a wish list of products together before you start designing your bedroom. She says, "Have an image in your mind of what you want to achieve." This will help you ensure that your products and designs complement each other, that your space is what you want, and that you're happy and comfortable with it.
And her final piece of advice? "Plan it out. You don't want to be halfway through and then realise you wish you did something different – so don't rush."
To find out more about the Stegbar products Christal used in her build, contact us on 1800 681 168, enquire on our website or visit us at your closest showroom.
Your Cart
---
No products in the Quote Drawer.
Your Stegbar Quote
item(s)
Attach Documents
(Plans, Reports, Photos)
---
Product Selection Summary
No products in the Quote Drawer.
Thank you for your quote request.
We look forward to helping you with your project.
Next Steps:
You will receive an email confirming your enquiry number.
A Stegbar team member will contact you within two business days to discuss your project.