How to Style Your Dream Master Bedroom with Natalee Bowen
When Natalee Bowen designs a bedroom suite for a client, she gets to the heart of their desired lifestyle. She seeks the finest of details, from the measurements of their shampoo bottles to the side of the bed they sleep on, from the colour of the walls to how they hang their garments.
To find out more about how Natalee Bowen, founder of Indah Island, styles dreamy master suites.

We interviewed the interior designer and Hamptons-style queen. She shared her expert knowledge on the key elements that go into designing a beautiful bedroom suite, and how all these elements come together into one, singular, beautiful space.

"Designing a bedroom suite is really all about relaxation – it's the retreat that you go to. It's the room of respite, so it has to feel comfortable."
Natalee Bowen believes in the beauty of a harmonious bedroom suite. All the different elements must blend well together, from the bedroom to the ensuite to the walk-in robe. When Natalee is working on a space, she gets right down to the granular elements.
The elements
There are quite a few things to think about when designing the ultimate bedroom suite. And surprisingly, it has very little to do with actual sleeping.
"We try to bring all the different elements to the forefront. That is: lifestyle, needs, wants, ambience, and utilisation and functionality," Natalee says. To her, these elements must come together to create a space where the client feels truly comfortable.
"The space needs to have beautiful form so that when you go in, you just don't want to leave."
Natalee reviews the relationships the client has with the bedroom, ensuite and walk-in robe. She interrogates what items they use, whether they read in bed, and unique, individual elements – like, for example, how a client might want their prized possessions displayed.
"I place a lot of emphasis on really finding out what the clients want, even to the extent of knowing what side of the bed they want to sleep on. If you need to get out of bed and go to the toilet a certain number of times during the night, what side of the bed is the door going to be on for what person?" Natalee says.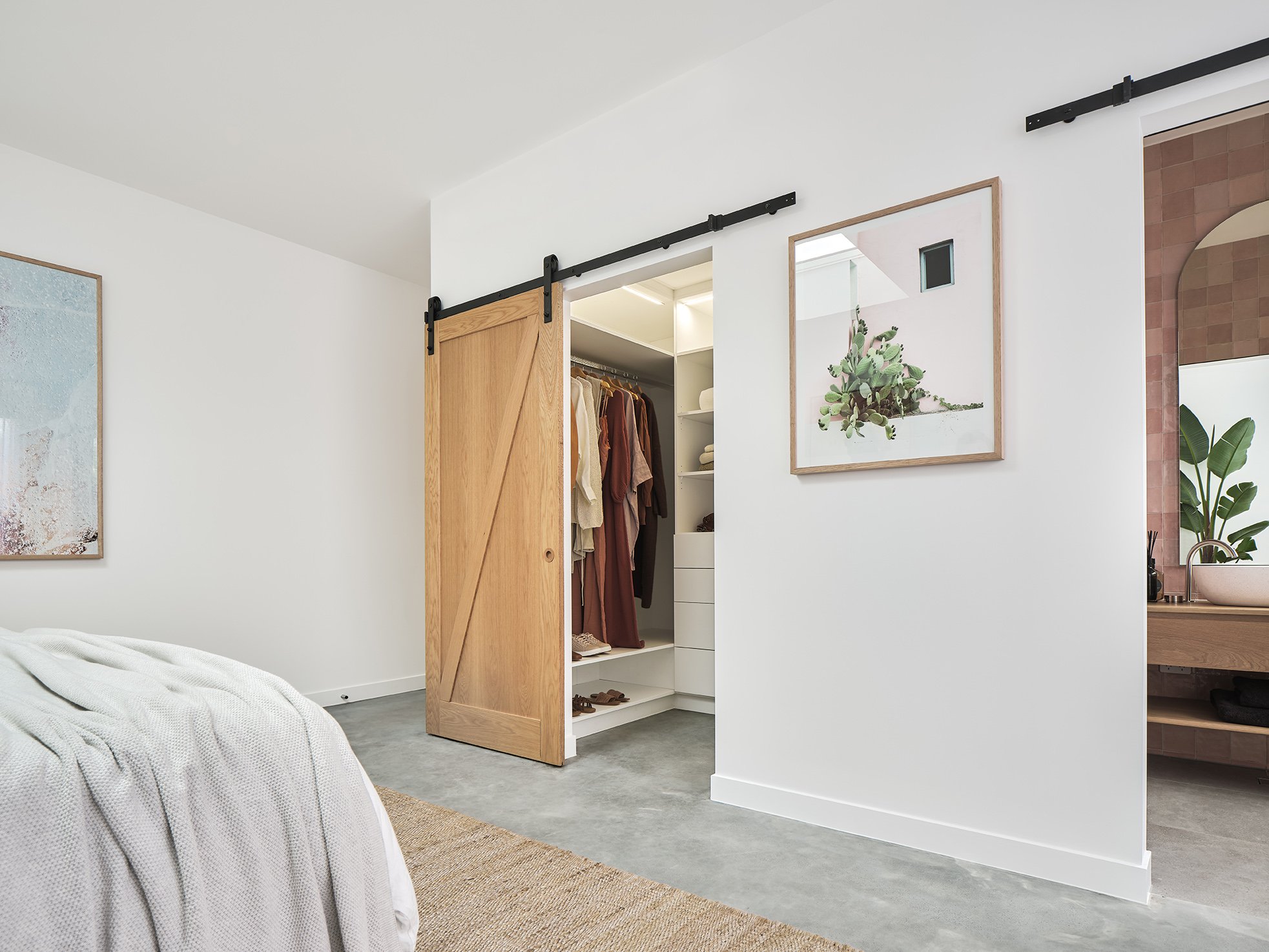 The colours
When choosing colours, Natalee prefers to opt for soft and calming colour palettes.
"I really love soft blues. Duck egg blue, light blue, even soft sages and greens," Natalee says.
To add texture and variety to the space, Natalee likes using a layer of wallpaper as a feature wall, or even a pop of colour for that added touch. She wants bedrooms to be a respite and have a cool and calm presence.
The walk-in robe
One of Natalee's favourite features of a bedroom suite is the walk-in robe. And while there are so many elements to think about in the design, she really focusses on the details. For example, she measures all of her clients' shoes and even gets the clients to count and share with her how many pairs they own.
Natalee believes a clients' proud possessions, whether shoes, handbags or something else entirely, should be celebrated, even within the usually-tucked-away spaces of a robe.
"Handbags are a good example. When you're talking about a bag that could be worth a lot of money, you don't want it shoved in a corner. You might want to have the bag out on display, not only for your own benefit, but for when guests and visitors go in there," Natalee says.
Natalee says we're now building homes that create beautiful lifestyles. And this means that people are thinking about the wardrobe not just as a closet, but as something more: a space where things we love can be displayed.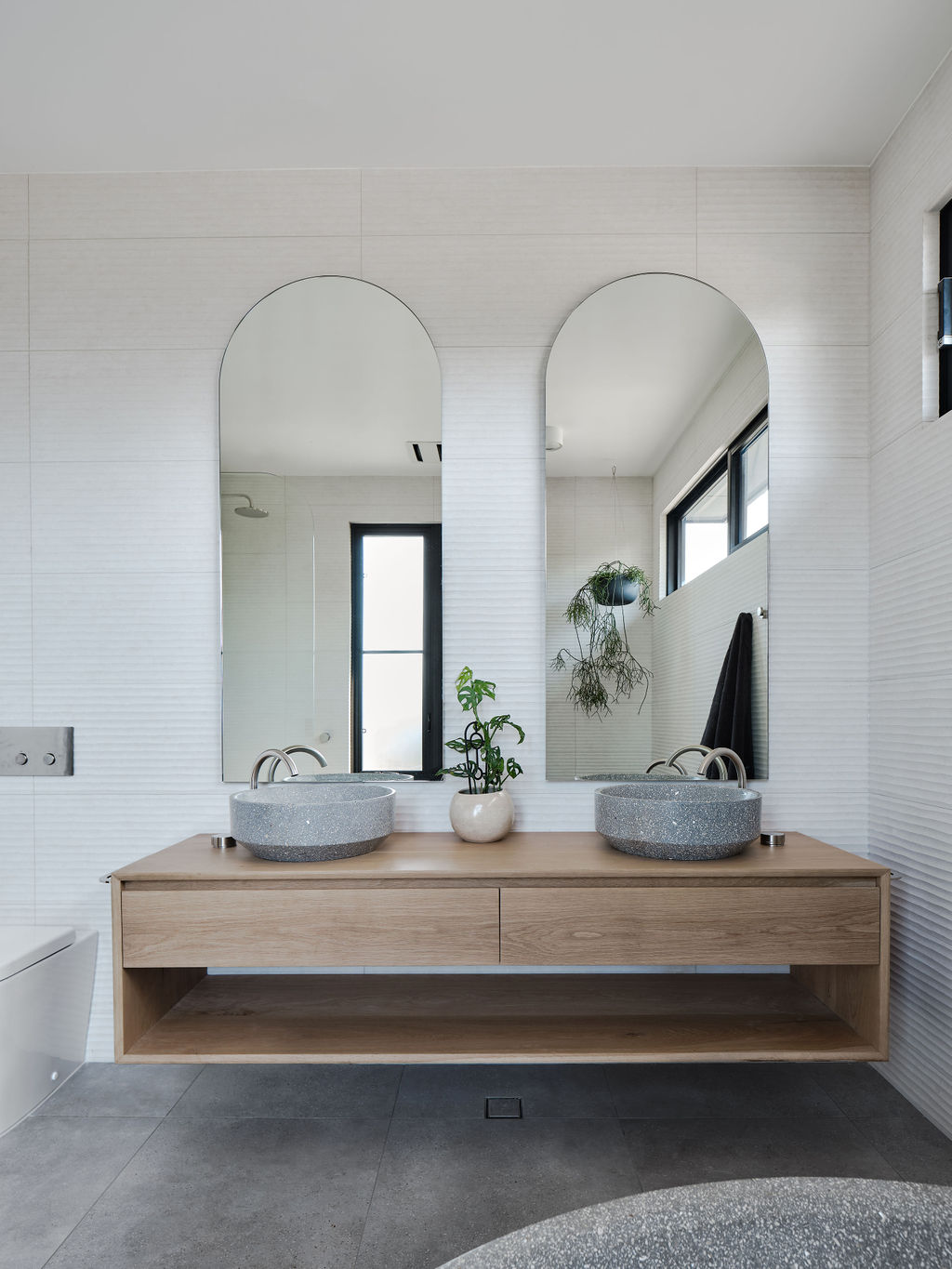 The ensuite
With ensuites, Natalee looks at the lifestyle that her clients want to create. "We've created bathrooms where we've had a sauna, spa, plunge pool, double-headed showers, the whole gamut. That's almost more of a spa resort than it is a house," Natalee says.
While creating a mini spa resort might be out of reach for many of us, the important point is that the ensuite should be more than just functional. It's an important part of daily life.
"Let's face it: your bathroom is the first thing that you see every morning after you wake up, and it's the last thing that you see before you go to bed."
"We really get into the lifestyle and liveability of that space so that when clients walk in, they get that feeling of respite immediately," says Natalee. Storage is an integral element, too. And while the beauty of form is vital, Natalee prefers to think about the function over form for storage spaces. Every detail, big and small, matters when it comes to making an ensuite that works harmoniously. "We even go to the extent of measuring shampoo bottles," Natalee says.
"What we do as designers is create a vision and bring it to life for the client."
There are so many different questions that people should ask themselves in the ensuite design process, Natalee suggests. "Do you have electric toothbrushes? Do you want to have phone adapters in there? How many drawers do you want? What are you going to put into those drawers? Do you want shelving to go over the bath so that you can have a glass of wine and candles to create a relaxing ambience? Perhaps a space for towels, or a little display area? It's all these different things that we bring to the client's attention," she says.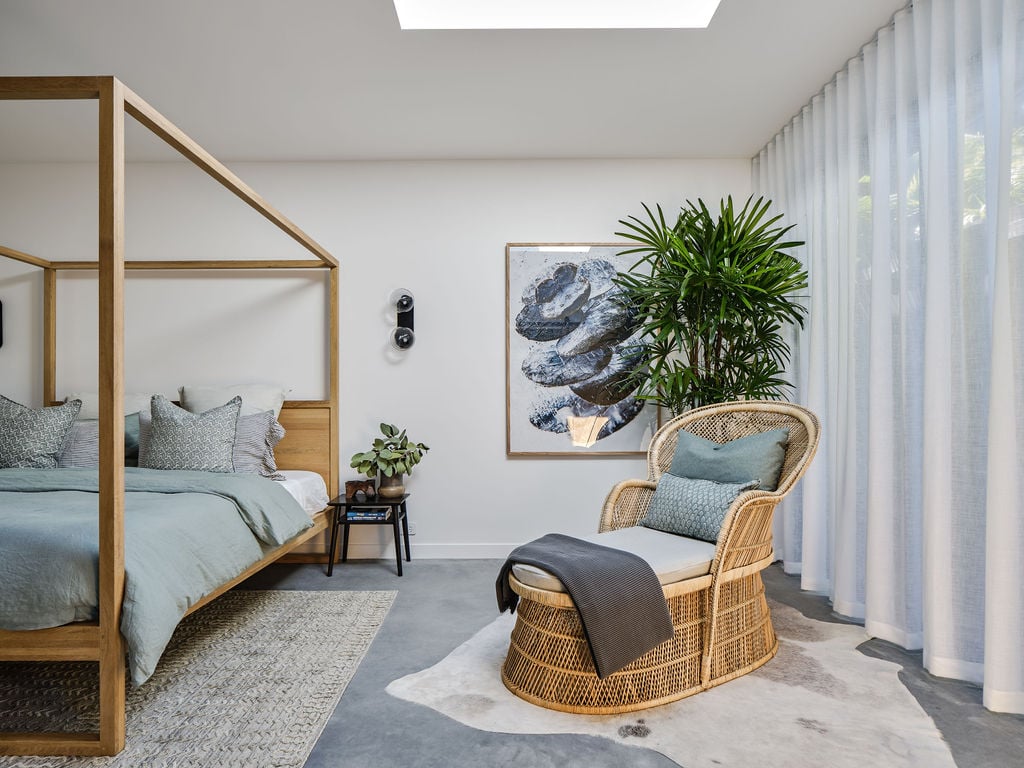 A bedroom suite should be magical
Designing a home for a client that creates a beautiful, functional and pleasurable journey through the spaces is the most special part of Natalee's craft.
"Finding out what the clients want, and showing them how to get it and make it fun, simple and magical, is what it's all about," Natalee says.
Find the perfect wardrobe for your master bedroom.
Introducing the Galleria wardrobe collection, where functionality meets luxury and style. Find out more about the Galleria range here.
Your Cart
---
No products in the Quote Drawer.
Your Stegbar Quote
item(s)
Attach Documents
(Plans, Reports, Photos)
---
Product Selection Summary
No products in the Quote Drawer.
Thank you for your quote request.
We look forward to helping you with your project.
Next Steps:
You will receive an email confirming your enquiry number.
A Stegbar team member will contact you within two business days to discuss your project.