Natalee Bowen: Designing a Wardrobe is About Intimacy and Investigation
Designing a dream wardrobe takes quite a bit of thinking. It also requires developing an intimate knowledge of the person you're designing for. It truly is a shared creative journey. Here, I'm going to share how I navigate it.
By Natalee Bowen @IndahIsland
Designing a dream wardrobe takes quite a bit of thinking.

It also requires developing an intimate knowledge of the person you're designing for. It truly is a shared creative journey – here I'm going to share how I navigate it.
I love going the extra mile for clients when designing wardrobes. And in the process I love becoming a bit of an investigator.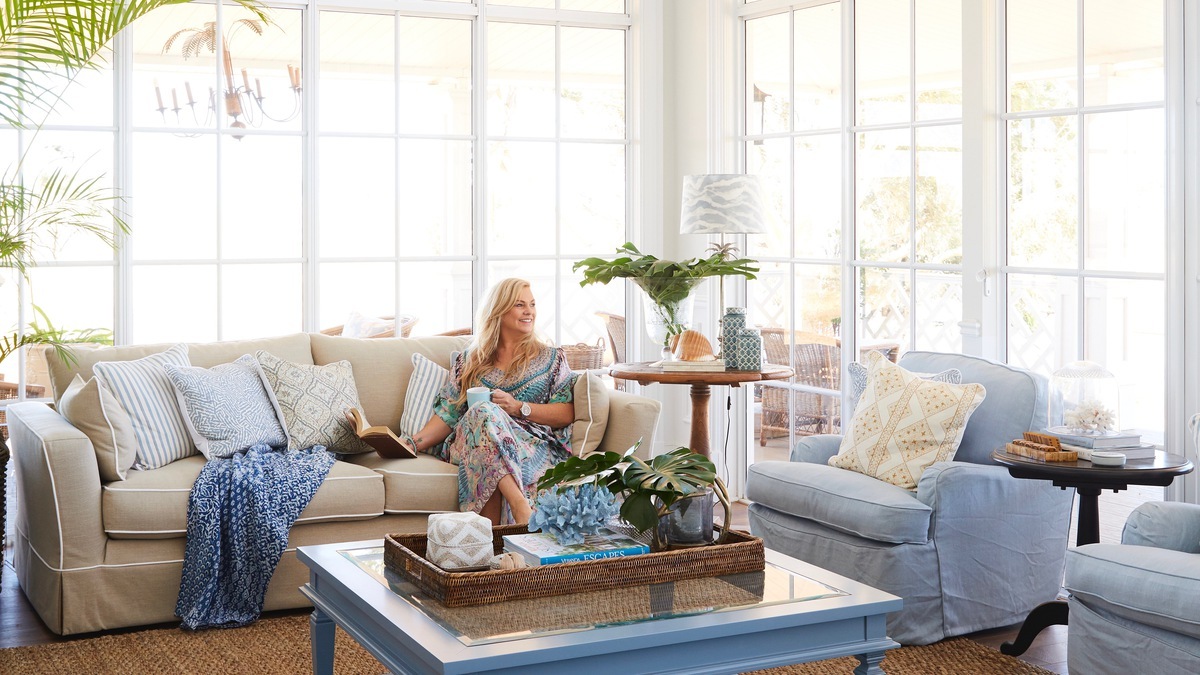 Image supplied by Natalee Bowen.


"I really get down to the nitty-gritty of it all."

The first thing to discover when designing a wardrobe is finding out who is going to be using the wardrobe. Is it one person, a couple, or more? And then once you know who will be using it, the next step is to uncover who wants what from the function of the wardrobe.
Some of the earliest questions I ask (that you can ask yourself too)
They range from, 'How many pairs of shoes do you have?' To something completely different, such as 'Do you need a safe?'


"I become a detective into their lifestyle."

I learn as much as I can in order to figure out how the wardrobe ought to be presented, and what the client wants to keep in there – both hidden and on display.
Together, we go through all fashion items, and do a stocktake of what items they have and then I design a wardrobe that meets their needs.
I like to dive in the deep end on this. Remember, I am aiming to create a space that is both really beautiful and unique for the user. So, the process is personal, even intimate. I like to find out how the person operates, how their brain functions, and I even go to the extent of finding out what side of the bed they sleep on.
But before we can even do anything, I like to discover a client's lifestyle vision. I'll ask, for example, 'Are you an avid traveller? And if so, do you want a luggage rack for your suitcases and also somewhere to unpack and arrange your items?'
It's all about getting the details right. So, I want to know how many pairs of boots and shoes you have, and what type – any knee-high boots, how many stilettos, sneakers and sandshoes? I want to know whether they should be on show or tucked away. This will tell me if the items should be proudly on display or hidden.
I also measure clothing like long coats and jackets and dresses and pants. I find out whether a client likes their pants to be folded over, hung or clipped. What kind of accessories do they have? Everyone has different preferences and habits. If you're thinking about designing your own wardrobe, ask yourself these questions too.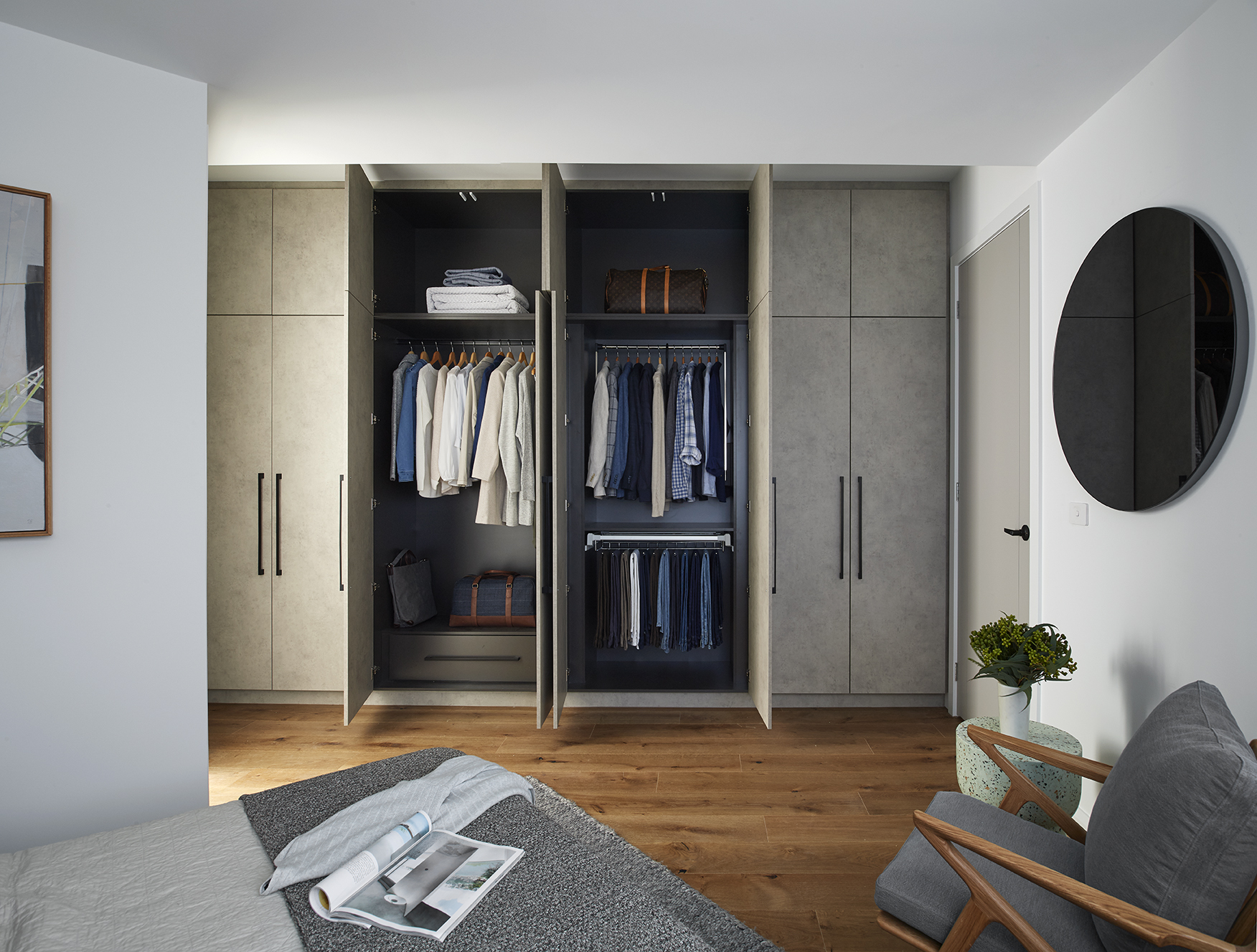 Image supplied by Stegbar.
It's a little bit about problem solving
Designing a great wardrobe is all about making life simpler and easier. It's like styling a bookshelf: you have to think about the things you're going to see immediately, and the things you need to be able to grab easily. Consider what will be at head height. They should be the items that are in regular rotation. Also, think about those special pieces that you want to display, right in your line of sight. We're talking about what will be on that mid-rail location.
The Galleria Wardrobe Collection is perfectly designed for this. The solutions built-in make it a very easy wardrobe to design a beautiful space with. I like to go through and have a look at the configurations and chat through them with my clients. The Galleria is such a brilliant problem solver. Its high-end customisable storage is beautiful and luxurious.
More than function. Think ambiance
Think ambiance, from the colour to the tones and how the atmosphere flows from your bedroom into the wardrobe. Even if your wardrobe isn't a whole second room off your bedroom, but a space built in, plan to make it integrate and match seamlessly with the rest of your room and home.


"Styling is important as it gives the room presence."

Choosing the colours and tones that help foster the ambiance you desire is essential. The Galleria range offers fabulous choices of colours, textures and layers and lighting to create all moods and styles.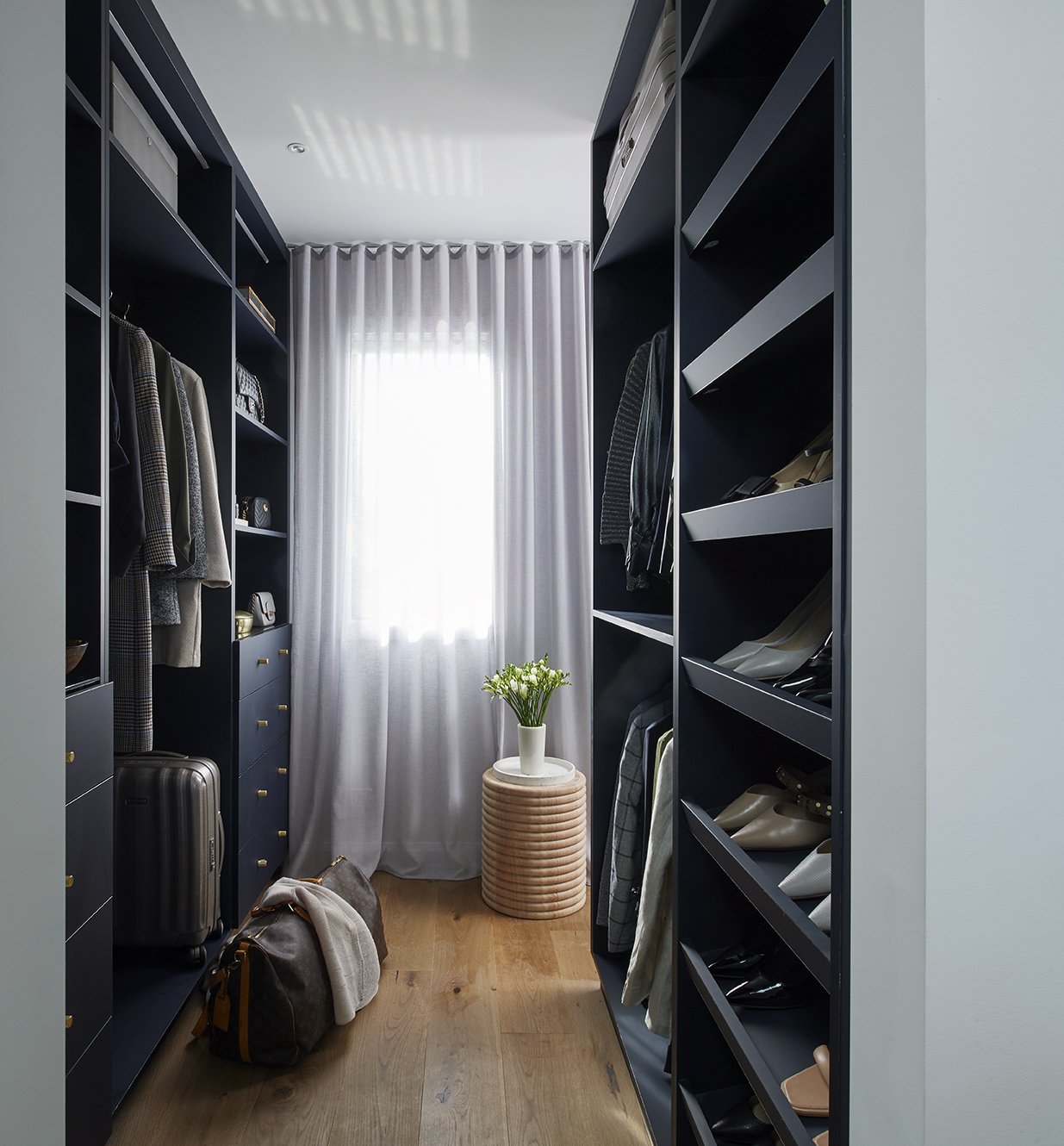 Image supplied by Stegbar.
Last but not least: lighting
One thing that really caps off a beautiful design is the lighting. And it's even more vital if you don't have any natural lighting in the space, as you will need to light the area.
So, for someone looking to re-work an existing wardrobe, they should ask if they find themselves walking into the space early in the morning and rummaging around trying to find that one perfect black top for the day. Here, a sensor light may be needed.
Another type of lighting that is fabulous for wardrobes is strip lighting. It's simple, but so effective. Install it at the back or in along the top of the wardrobe to clearly see all the clothing and items inside. It can also be placed in drawers and in shoe racks to avoid any inelegant fumbling around.


"It's the little extra details, such as strip lighting, that not only create ambience but are functional."

And finally: another way to truly elevate your wardrobe is with a beautiful feature light that complements the existing lighting. It will really set the mood.
In the end, think of a wardrobe as a small piece of daily inspiration
A wardrobe is so much more than a space you chuck clothes into without thinking. It's a special place. You go in there to feel empowered. After all, how you look and feel is so important, and a wardrobe is where you choose the outfit to represent yourself as you go out into the world.
It's great to start the day inspired. A beautiful, functional wardrobe can do that.
Your Cart
---
No products in the Quote Drawer.
Your Stegbar Quote
item(s)
Attach Documents
(Plans, Reports, Photos)
---
Product Selection Summary
No products in the Quote Drawer.
Thank you for your quote request.
We look forward to helping you with your project.
Next Steps:
You will receive an email confirming your enquiry number.
A Stegbar team member will contact you within two business days to discuss your project.