Celebrating Stegbar's Rich History: The Classic Catalogues
Stegbar's catalogues from over the years capture more than just the changes as a company, they are a visual record of Australian life. Learn more.
Stegbar's catalogues from over the years capture more than just the changes at a company – they are a visual record of Australian life at another time. Viewed together, they offer a picture of how trends, technology, style and design have all shifted over the decades – or, in some ways, stayed the same. Here, we share some classic imagery from Stegbar's catalogues.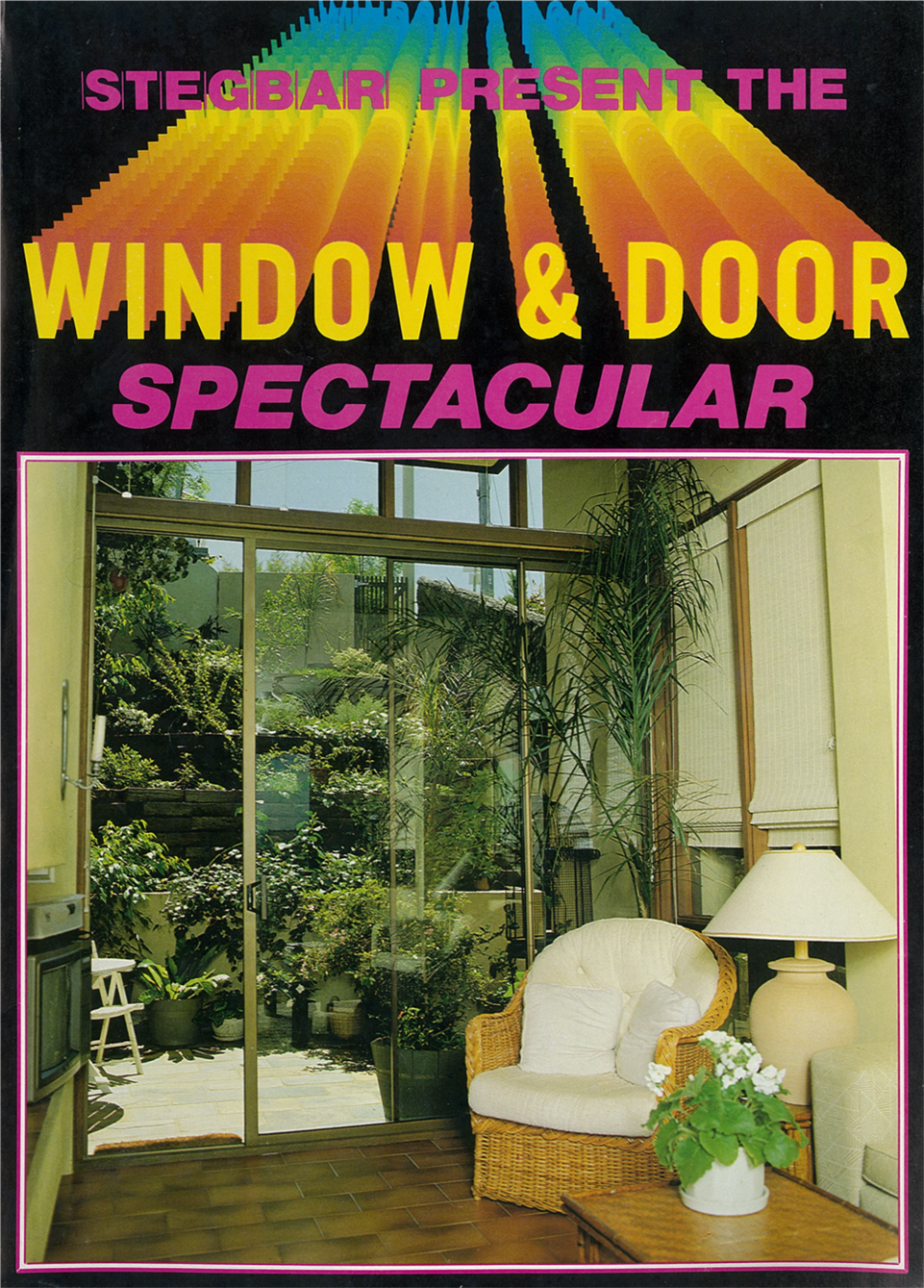 Stegbar Catalogue
It's an understatement to say the world has transformed so much in the last eight decades. And with the changing of time, Stegbar has changed, too. From starting as an office furniture and grandfather clock maker in 1946 to adding window sales in 1950, an essential piece of what Stegbar would become today: a steadfast Australian brand known and loved for our quality doors, windows, wardrobes, and more.
A look into the past
Cedar tilt window
It's all there: the hair, the lampshade, the double hung window with glazing bars. This is a gorgeous example of how our early catalogue imagery captured the style and taste of the time.
Slimsash apartment window
A new way of life. Apartment living grew in popularity in some Australian cities in the post-war '50s and '60s. This apartment featured the classic slimsash awning window.
Shutters louvres
A great way to add shade and enable ventilation, window shutters were very much in style at the time. These days, design and technology have advanced so much that, today, windows rarely feature shutters. Instead, we can utilise double glazed windows, passive cooling and other modern ways to keep our homes comfortable.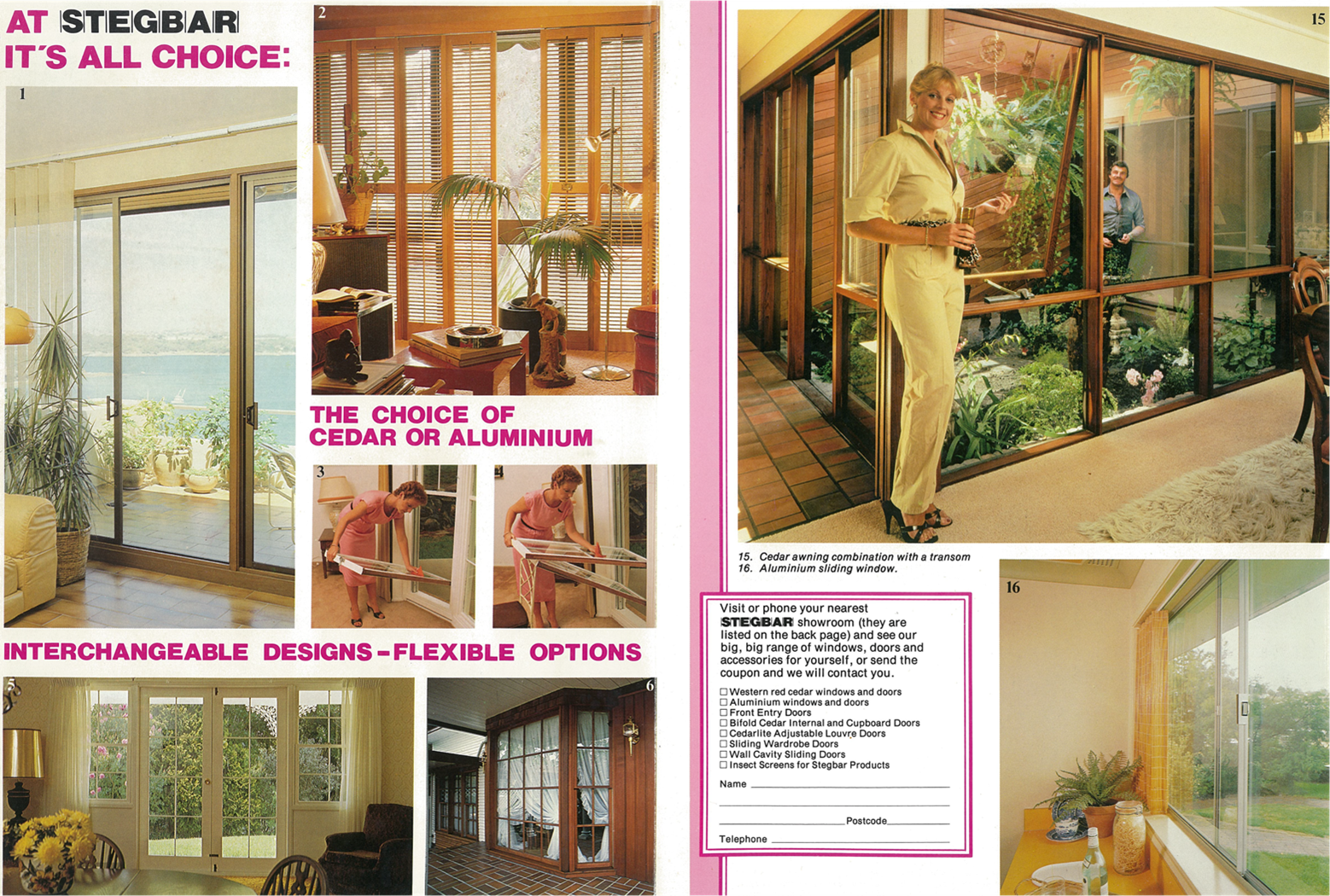 Flexible design and choices
Back in the '70s and '80s, Stegbar was all about flexible designs and choice. An ethos that is still the case today.
A step back in time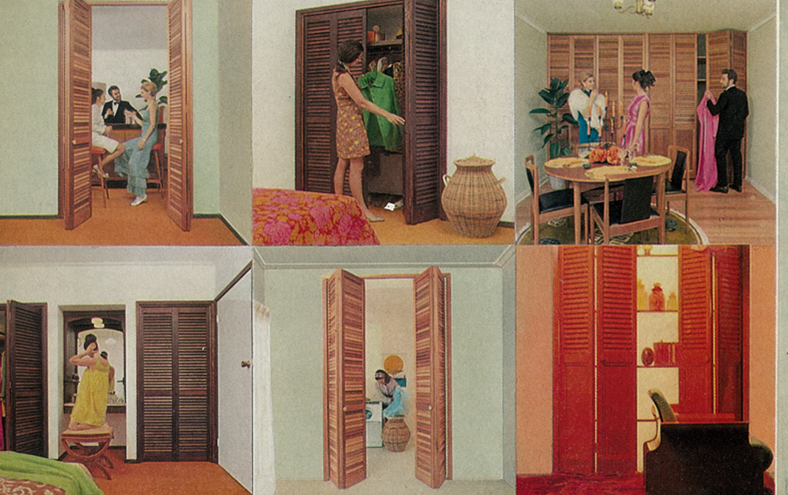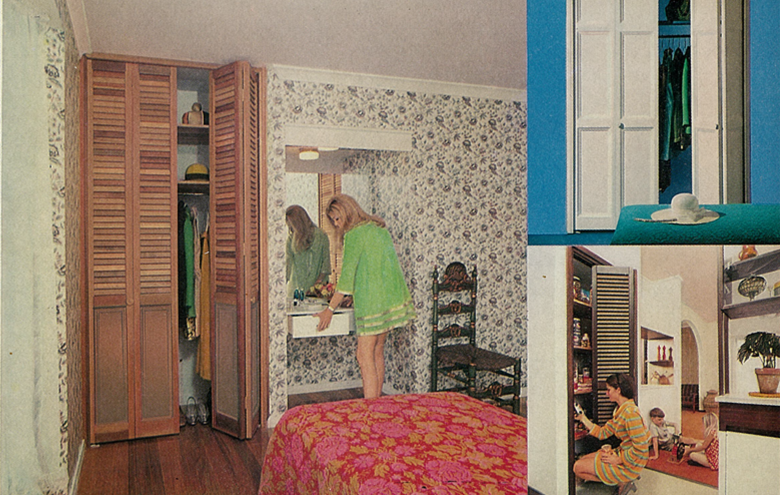 Modern family lifestyle
A look at a modern family's lifestyle of the time. From dinner parties to getting ready for a night out, from looking after the kids to precious quiet time alone, practical spaces were as important then as they are today. Today's modern Australian family still loves that same flexibility and style.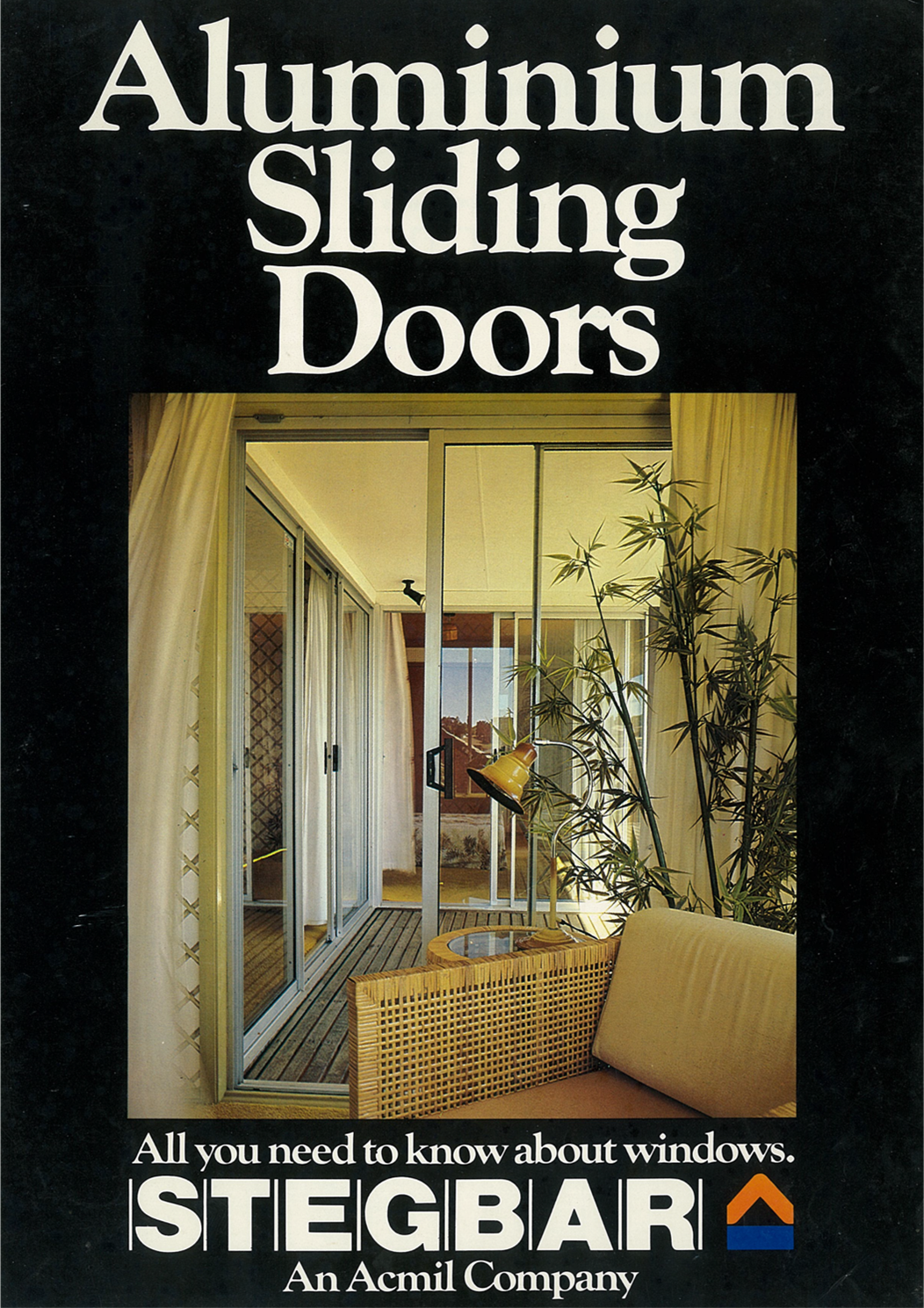 Aluminium sliding doors
The rattan armchair, the bamboo, the desk lamp – this catalogue is a great example of the interior design popular during the changing era of the late '70s and early '80s.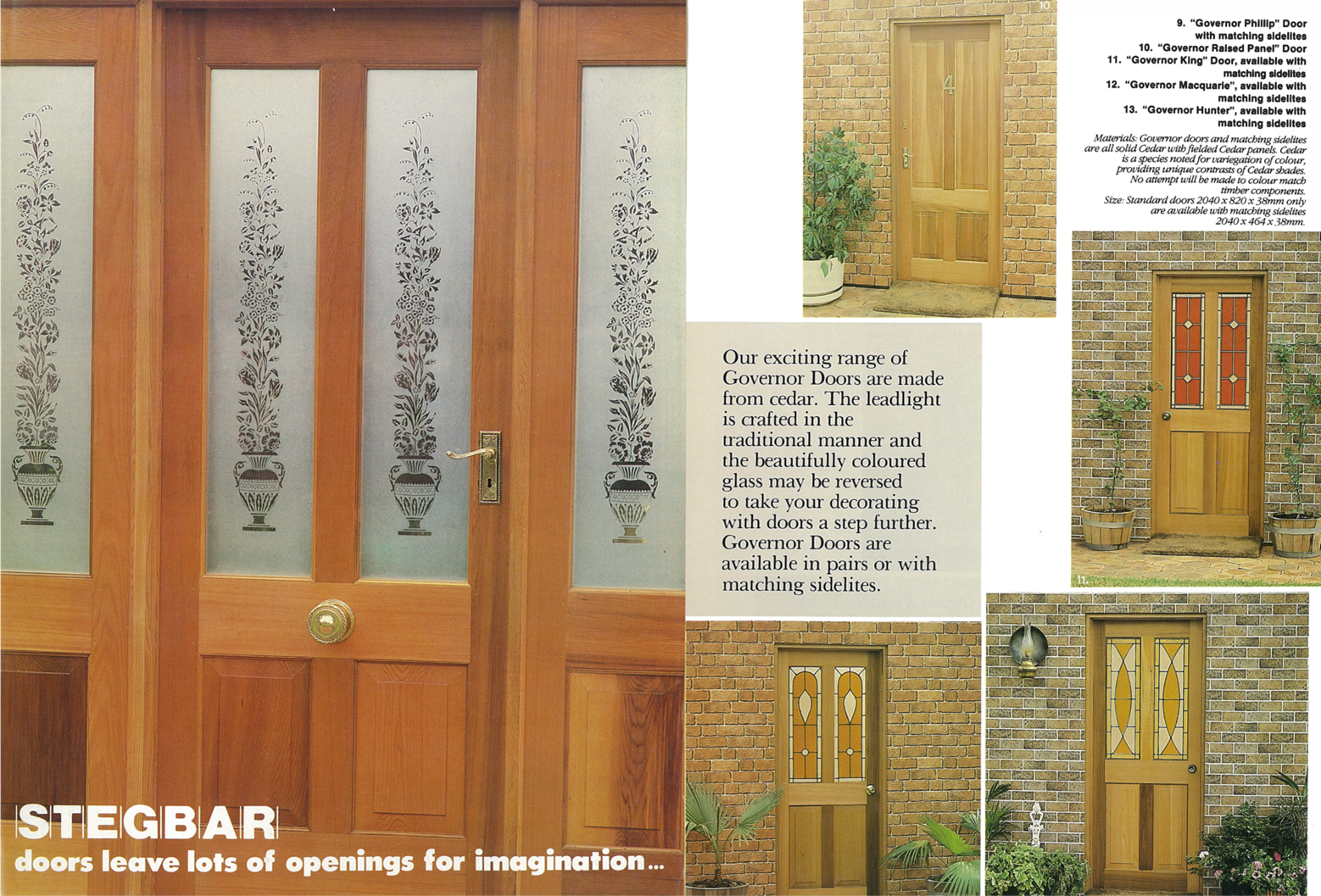 Timber entrance door
Less common in today's homes but big at the time, these leadlight and timber entrance doors were the epitome of '90s kerb appeal. Today, you'll still find glazed entrance doors but with a more contemporary feel.
Inside our wardrobes and cabinets
Bi-fold doors
Things were changing in the '60s, and interior design focused on space and how we use it. Products in the home were designed to be functional first but stylish too.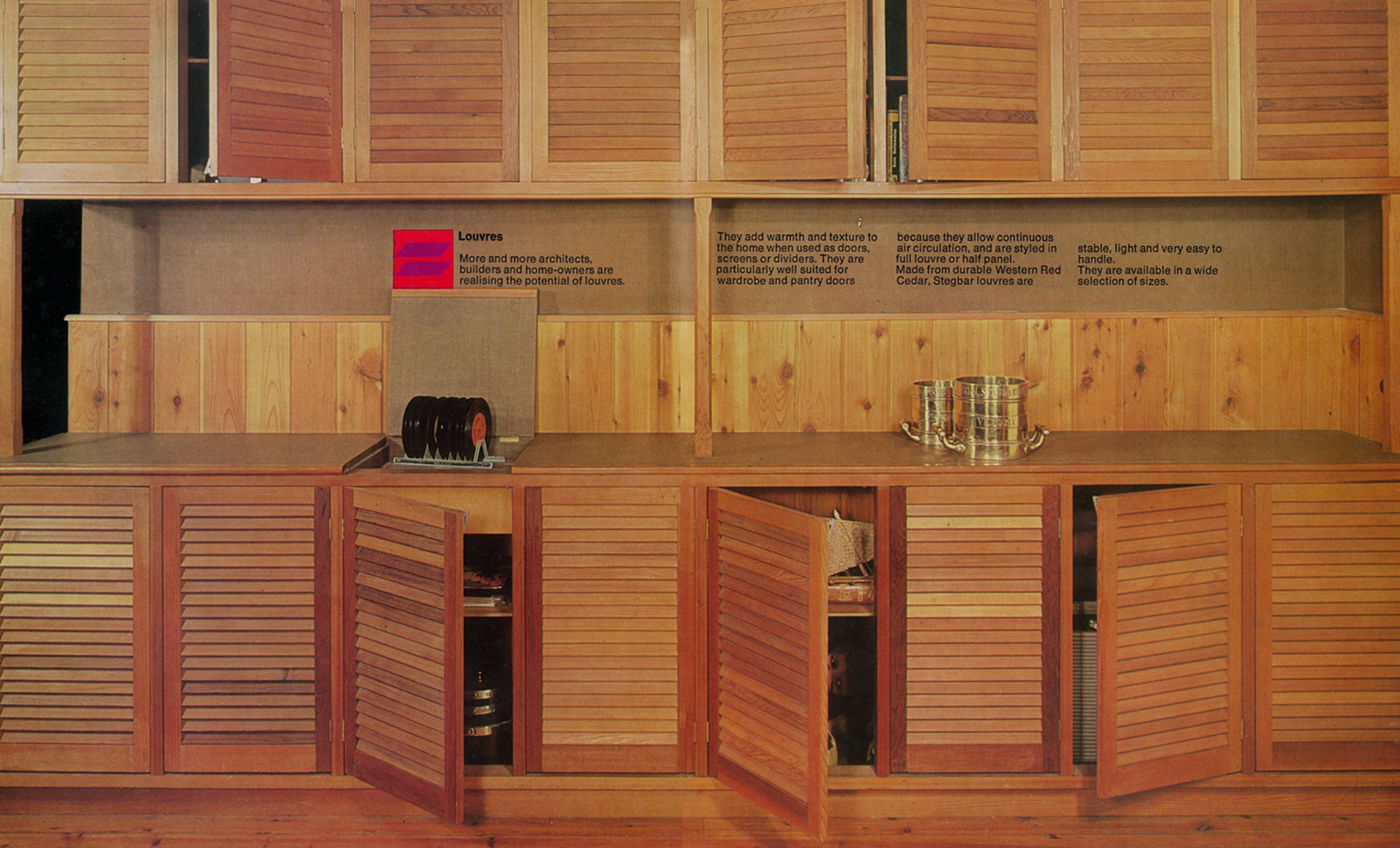 Built-in side table
This built-in side table and cupboards with cedar louvre doors is a phenomenal double-page catalogue spread. This image clearly shows just how popular cabinets with louvre doors were in the '70s.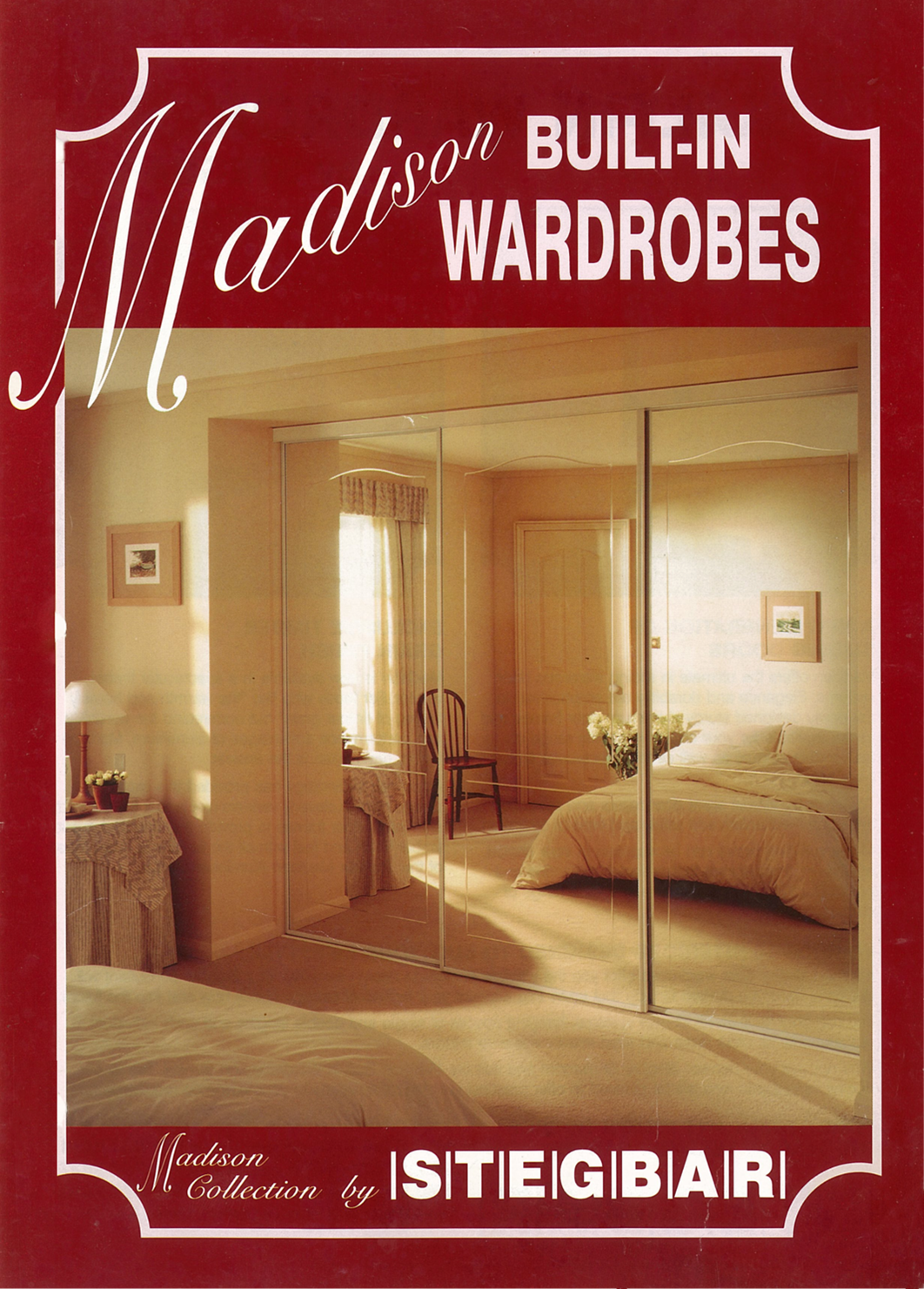 Built-in wardrobe
With the window valance, the double-layered tablecloth, the chair in the corner, and the soft, warm light spilling in through the window furnishings, this bedroom catalogue is both timeless and quintessentially '90s.


A splash of history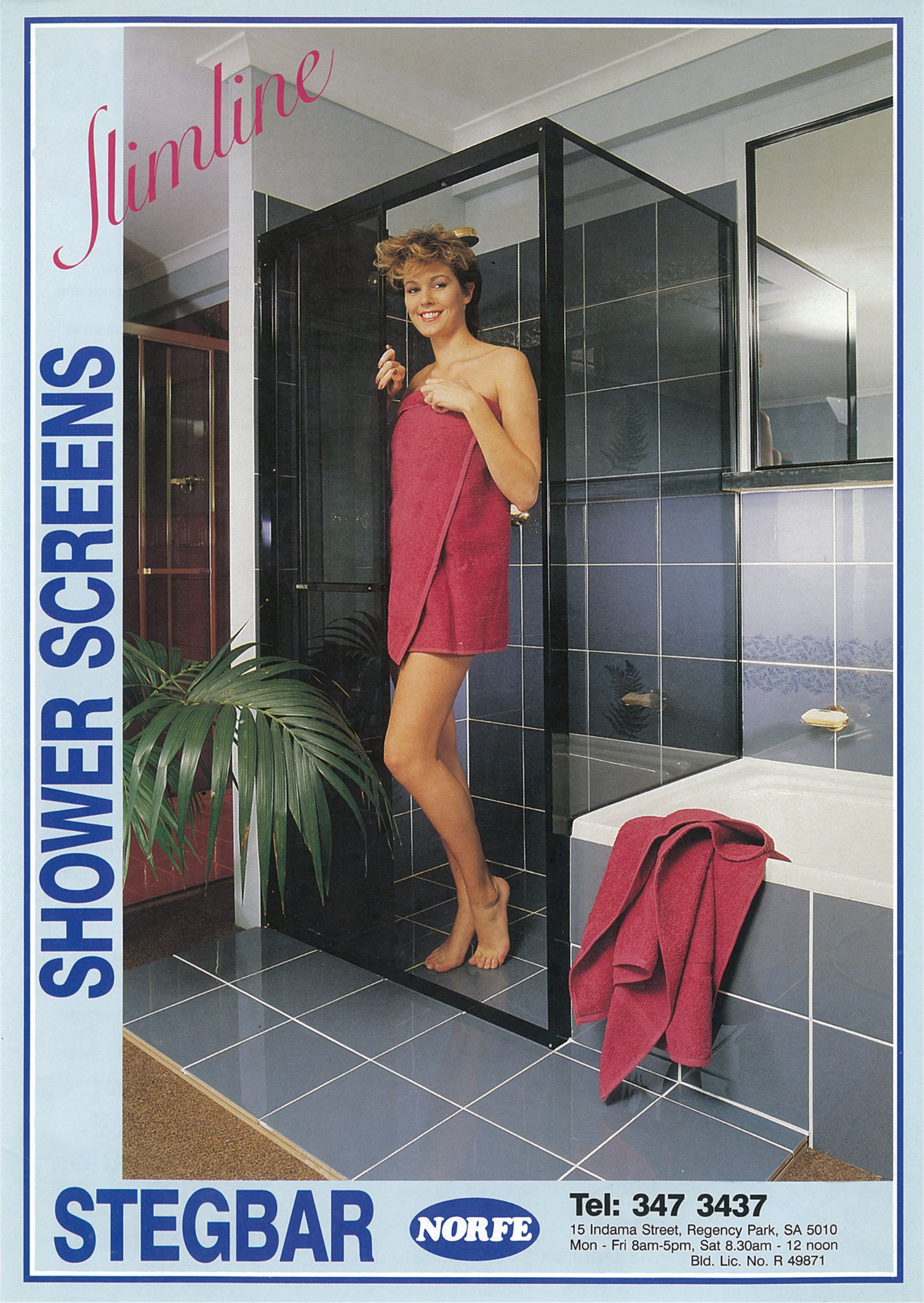 Shower screens
This image comes from a photoshoot in one of our showrooms. The matching berry-red towel draped casually over the lip of the bath and the large blue tiles are classic examples of early '90s styling. The way advertising used models is definitely dated, and a contrast to how Stegbar styles its bathroom photography today.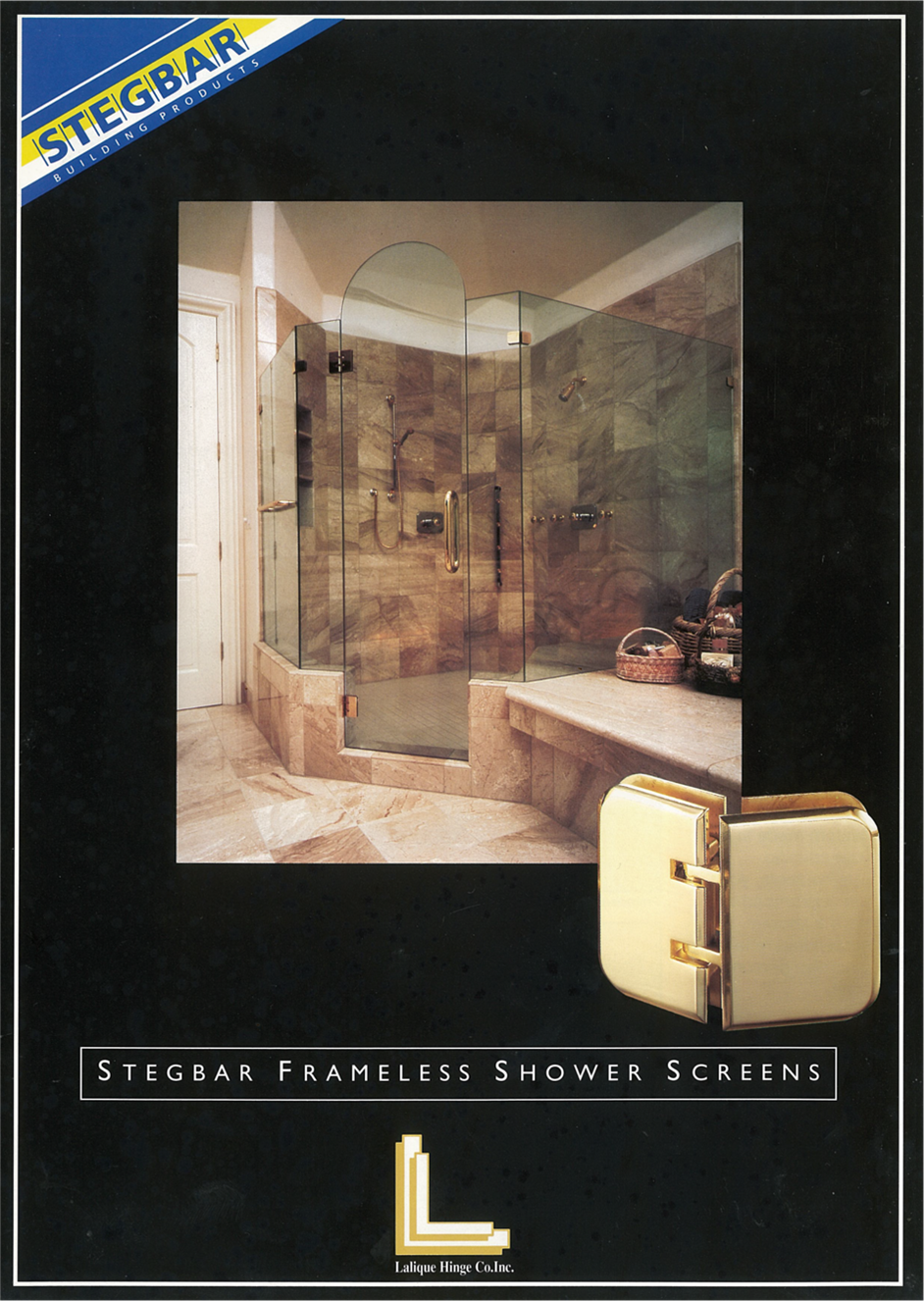 Frameless shower screens
First launched in the 1970s, frameless showerscreens became popular because of their sleek design. Their simple lines and lack of fixings suited most stylish and modern bathrooms.
We're looking forward
From the black and white imagery and iconic fashion of the '60s, to the colourful styling and timber louvres of the '70s, and the showerscreen photographs that are now quite dated – we are proud of our rich and colourful past. And we're proud to have been there through the many changes in Australian homes and Australian history.
Discover our contemporary range of quality and innovative products for your home. Visit your local Stegbar showroom, give us a call on 1800 681 168, or place an online enquiry.
Your Cart
---
No products in the Quote Drawer.
Your Stegbar Quote
item(s)
Attach Documents
(Plans, Reports, Photos)
---
Product Selection Summary
No products in the Quote Drawer.
Thank you for your quote request.
We look forward to helping you with your project.
Next Steps:
You will receive an email confirming your enquiry number.
A Stegbar team member will contact you within two business days to discuss your project.