The Story of the Stegbar Windowall
When famed, award-winning mid-century architect Robin Boyd collaborated with Stegbar in the 1950s to create the Stegbar Windowall, architectural history was made. The Stegbar Windowall defined the cutting-edge, modern Australian suburbs in the fifties and sixties. Here, we share the story of the Windowall.
Have you ever seen a stunning mid-century modern Australian home from the 1950s, '60s or '70s and discovered that it has an entire wall of windows? Have you ever wondered about the story behind this element of architecture? You may think that type of structural window-wall originated from the American modern architect Frank Lloyd Wright, or mid-century designers Charles and Ray Eames. But, wonderfully, this inventive, structural, modular window-wall was designed right here in Australia by accomplished Melbourne-based architect Robin Boyd (1919–1971), who collaborated with Stegbar in the early 1950s to create the ground-breaking Stegbar Windowall.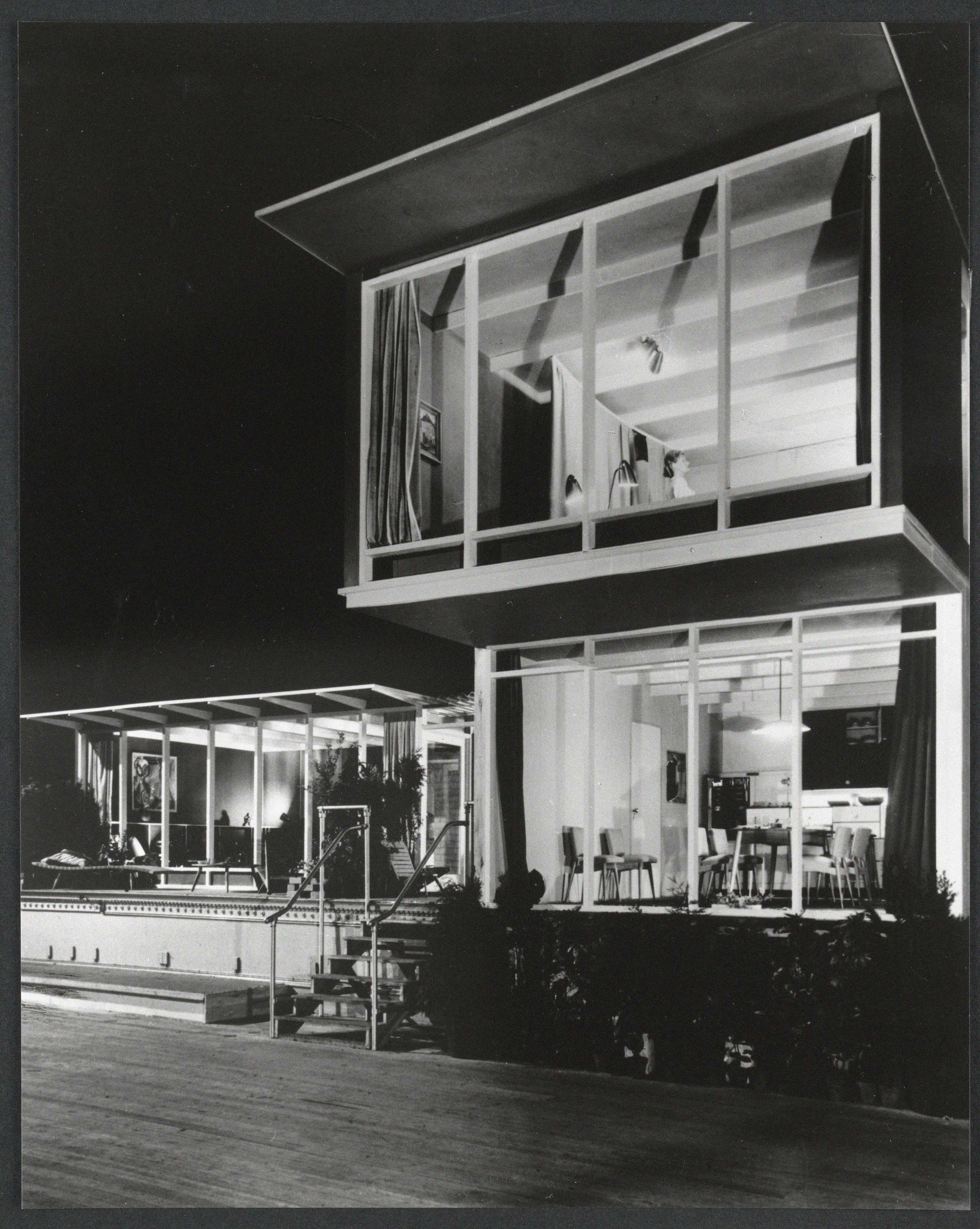 Robin Boyd's 'House of Tomorrow'. Image by Wolfgang Sievers
Boyd's early explorations of light and function
A fierce critic of design and aesthetic in post-war Australian suburbia, Robin Boyd was passionate about prefabricated, modern architecture that connected people with place. Before working with Stegbar on the Windowall, he had regularly experimented with functional glazing – he understood the potential that windows held. In 1938, while 19-year-old Boyd was studying architectural studies at Melbourne University of Architectural Atelier (MUAA), he designed an artist studio for his cousin, Arthur. The biggest feature of this little art studio was an angled bank of eight large, fixed windows that lit up the space with natural light.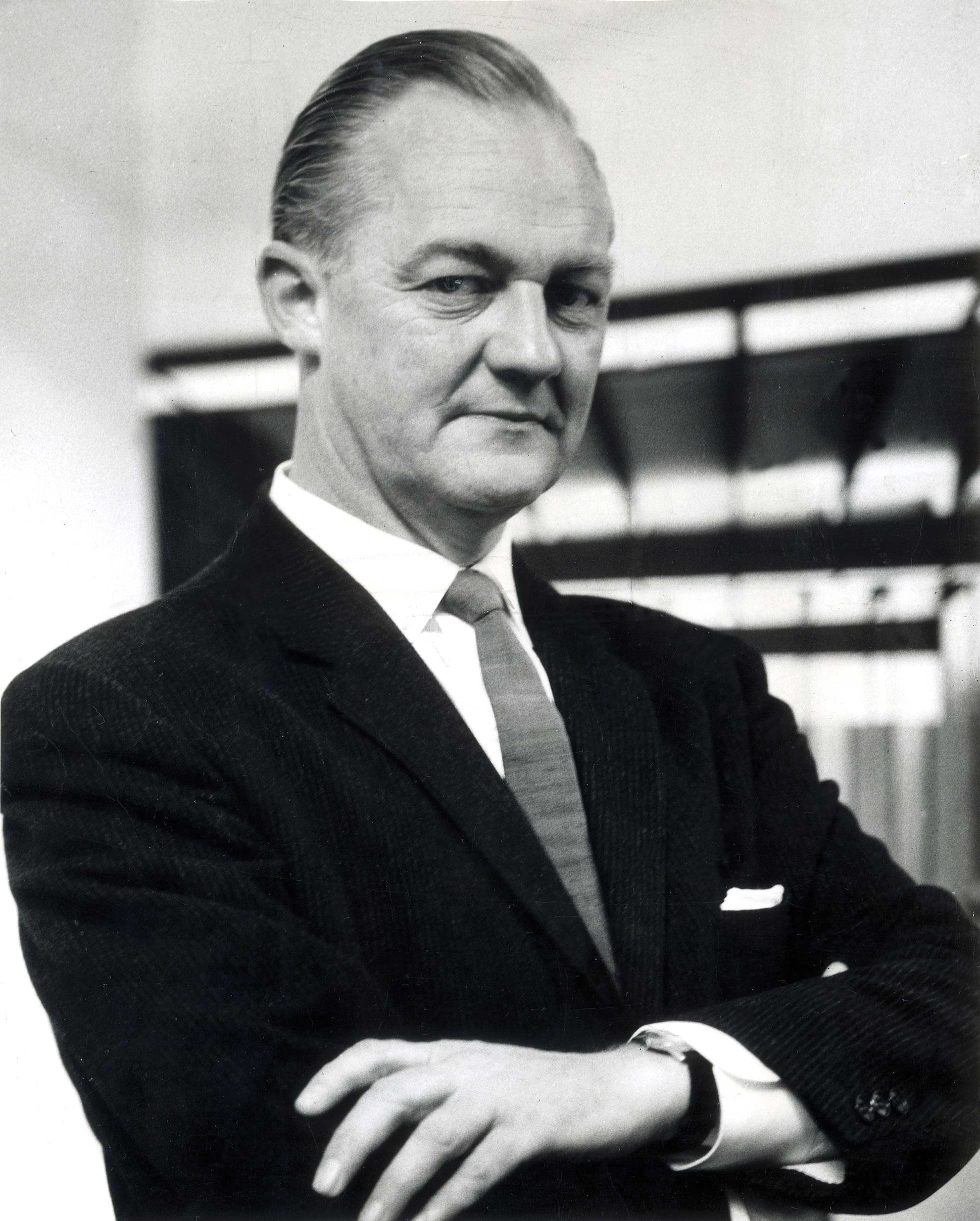 Robin Boyd
After the Second World War, while designing homes for both himself and private clients, he was able to explore his ethos to architecture – that homes must be functional and aesthetically pleasing – while considering the local climate and landscape.
Through these ideals, he revolutionised the Australian attitude to windows, conceiving that windows can have more than just one function: he created an environment where a window can also be a wall. The houses he designed were renowned for their large banks of windows, allowing plenty of sunshine in. This might sound perfunctory now, but it was ground-breaking and before-its-time then.
View this post on Instagram
The Walkley Residence, Adelaide. Designed by Robin Boyd in 1955.
The patented Stegbar Windowall
In the early 1950s, Stegbar – which had started out in 1946 making office furniture and grandfather clocks – expanded into producing timber modular windows to respond to the rising popularity of modern design elements in homes, such as open-plan layouts, minimal lines, and a connection between the home and outdoors. As the brand evolved to meet the changing landscape of home designs, a collaboration with Robin Boyd, renowned for his revolutionary approach to glazing suburban homes, was a fitting next step. Robin approached Stegbar with his radical vision of reinventing windows and their use in architecture. So they teamed up to create the patented Stegbar Windowall, a large structural wall entirely made from modular windows.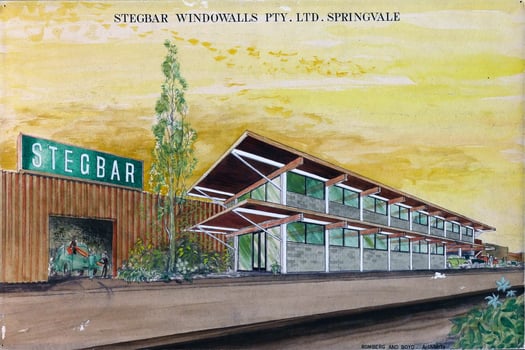 Drawing: External Perspective, Stegbar Windowalls, Springvale by Robin Boyd, date unknown. © estate of Robin Boyd courtesy of the Robin Boyd Foundation.
What set Stegbar's Windowall apart from other window-walls being manufactured at the time was that the Windowall's frames were actually the stud frame of the entire wall. This meant the Windowall was able to hold up the roof without any extra structural support, and that any homeowner, architect or builder could achieve this modern look with a prefabricated glazed stud frame.
The Stegbar Windowall was launched in 1953 and was a huge success. It was widely marketed to a large customer base and picked up by architects, project building companies, homemakers and builders alike. It was affordable and functional, available in standard sizes and fully customisable. Because of its popularity, Stegbar quickly became one of Australia's leading producers of modular timber windows.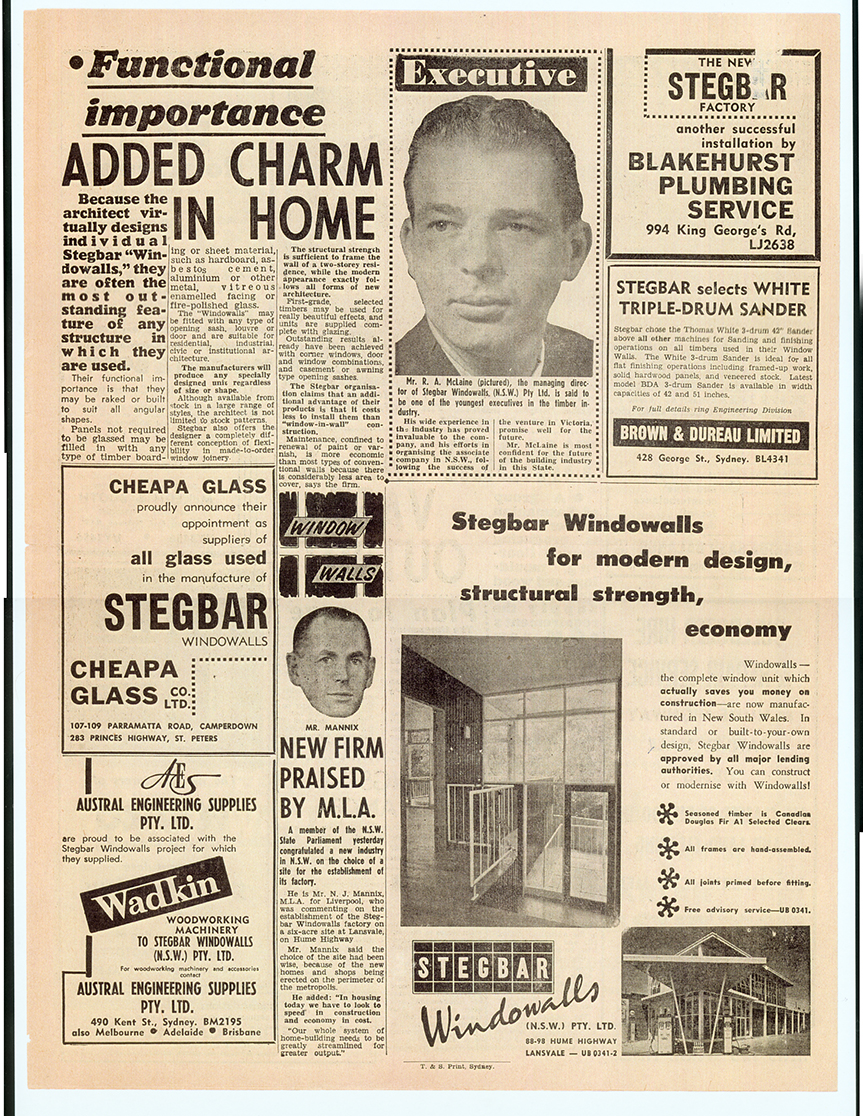 Early Stegbar advertising featuring the Windowall.
The Windowall on display
One of the first examples of the Windowall in use is in a 1955 Robin Boyd-designed family home in Beaumaris. This home displayed the beautiful potential of the Windowall and became the testing ground for the viability of the modular, structural wall of windows – and proved to be a great example for modestly built project houses to come.
Another striking example of the Stegbar Windowall in a Boyd-designed home is the Featherston house in Ivanhoe, designed in 1967 and completed in 1969. Boyd designed this home for his friends Grant and Mary Featherston, who were interior and industrial designers – Grant was most well-known for his 'contour chair' –and gave Boyd free rein in his design of a place to have a family, work, create, play and live. The centre of the house reaches 7.5 metres high with, instead of rooms, what are best described as 'platforms' that appear to be floating around the centre brick (non-working) chimney. There's a translucent roof and a lush internal garden. But the biggest feature of this incredible home is the large, eye-catching Stegbar Windowall. Together with the translucent roof, the Windowall allowed plenty of natural light to fill up this architectural marvel of a family home.
View this post on Instagram
The Featherston House in The Design Files. Photos by Eve Wilson.
The influence on Australian modern architecture
The Robin Boyd-designed Stegbar Windowall had a big impact on mid-century modern Australian architecture and soon became a household fixture, right through to the 1970s. It defined a strong aesthetic for the Australian suburban home of the time. The bold architectural movement that started with the Windowall's affordability and elegant design had such a positive effect that can still be seen in today's architecture. North-facing walls of windows, awareness of natural light and how it affects the home, and the popularity of prefabricated building materials with project builders are all examples of the legacy of the Stegbar Windowall.
Meeting the future of Australian homes
We're proud of our collaboration with Robin Boyd that resulted in the era-defining architectural feature – the Stegbar Windowall. We've always been a business that embraces change: our ethos of innovation means that we're constantly evolving to suit the needs of modern Australian families.
Speak to us today about incorporating iconic Stegbar products into your home.
Your Cart
---
No products in the Quote Drawer.
Your Stegbar Quote
item(s)
Attach Documents
(Plans, Reports, Photos)
---
Product Selection Summary
No products in the Quote Drawer.
Thank you for your quote request.
We look forward to helping you with your project.
Next Steps:
You will receive an email confirming your enquiry number.
A Stegbar team member will contact you within two business days to discuss your project.