Choosing A Showerscreen? Here's Where To Start
When creating a home, every detail matters. Here's how to approach showerscreen selection.
It's often the smaller details of a big home project that can make a surprising difference to how a home feels and functions. From unique fixtures and fittings that add a special touch, to the textures and colours of every surface – every piece matters.
When it comes to your bathroom, it should be functional and feel beautiful and a pleasure to spend time in. And one of the key elements of a well-designed bathroom is the showerscreen. Different types of screens suit different needs, so match the right screen with your needs and you're on your way to bathroom bliss. Here, we look at how to match the right showerscreen to your needs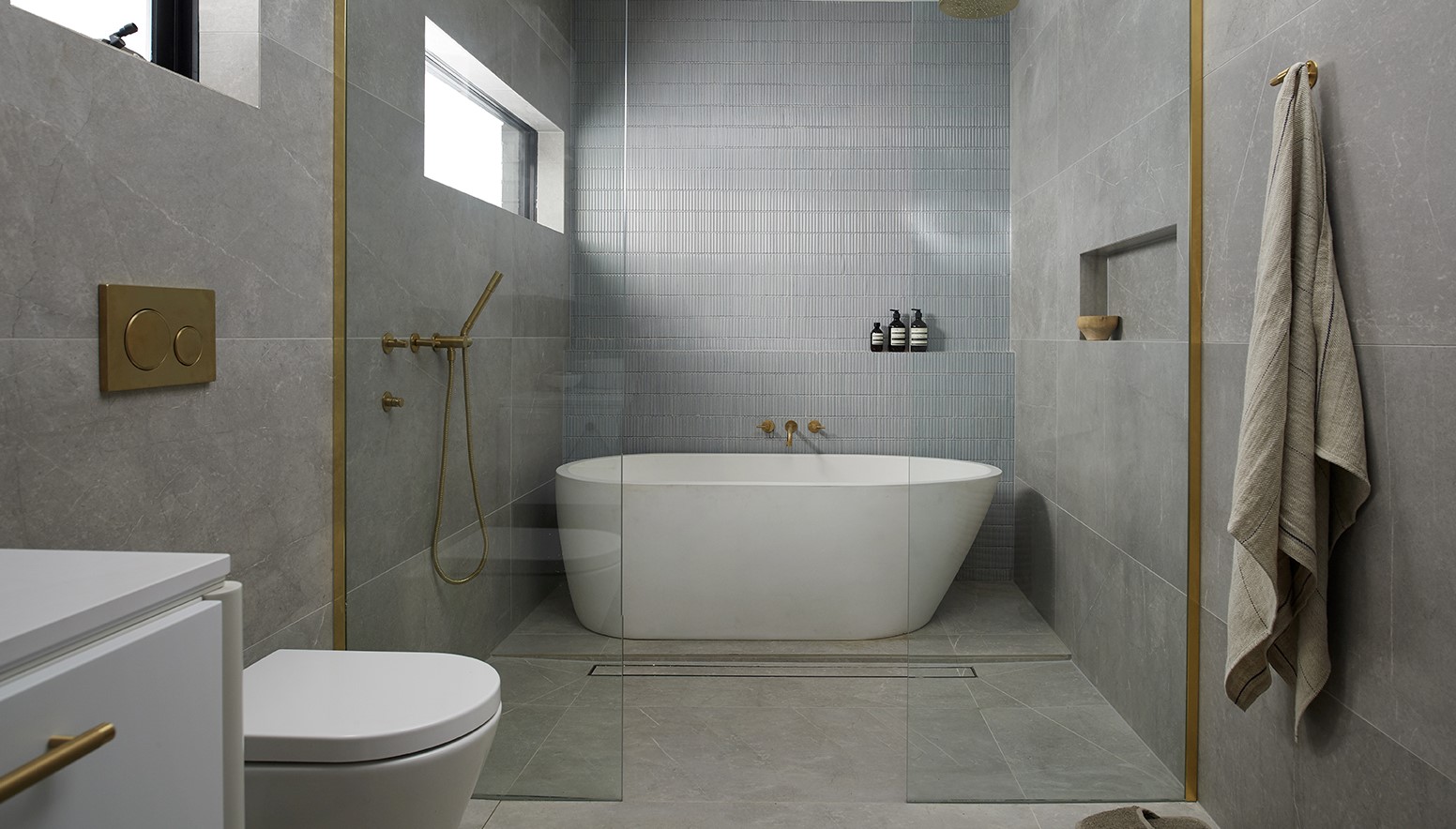 First, consider who will be using your shower
Your shower's design should reflect who you are and the way you want to live. If it's a first home for a growing family, you might be looking for a showerscreen design that is functional and durable. If the kids are about to head out on their own, is it time for an upgrade to make the space a bit more special, just for you? If you're single or in a steady relationship and looking to create the perfect pad to show the world who you are, you might be looking for something a little more individual.
Frames
Showerscreens come with different frame types. At Stegbar, we make frameless, framed and semi-frameless designs, each with unique features and benefits.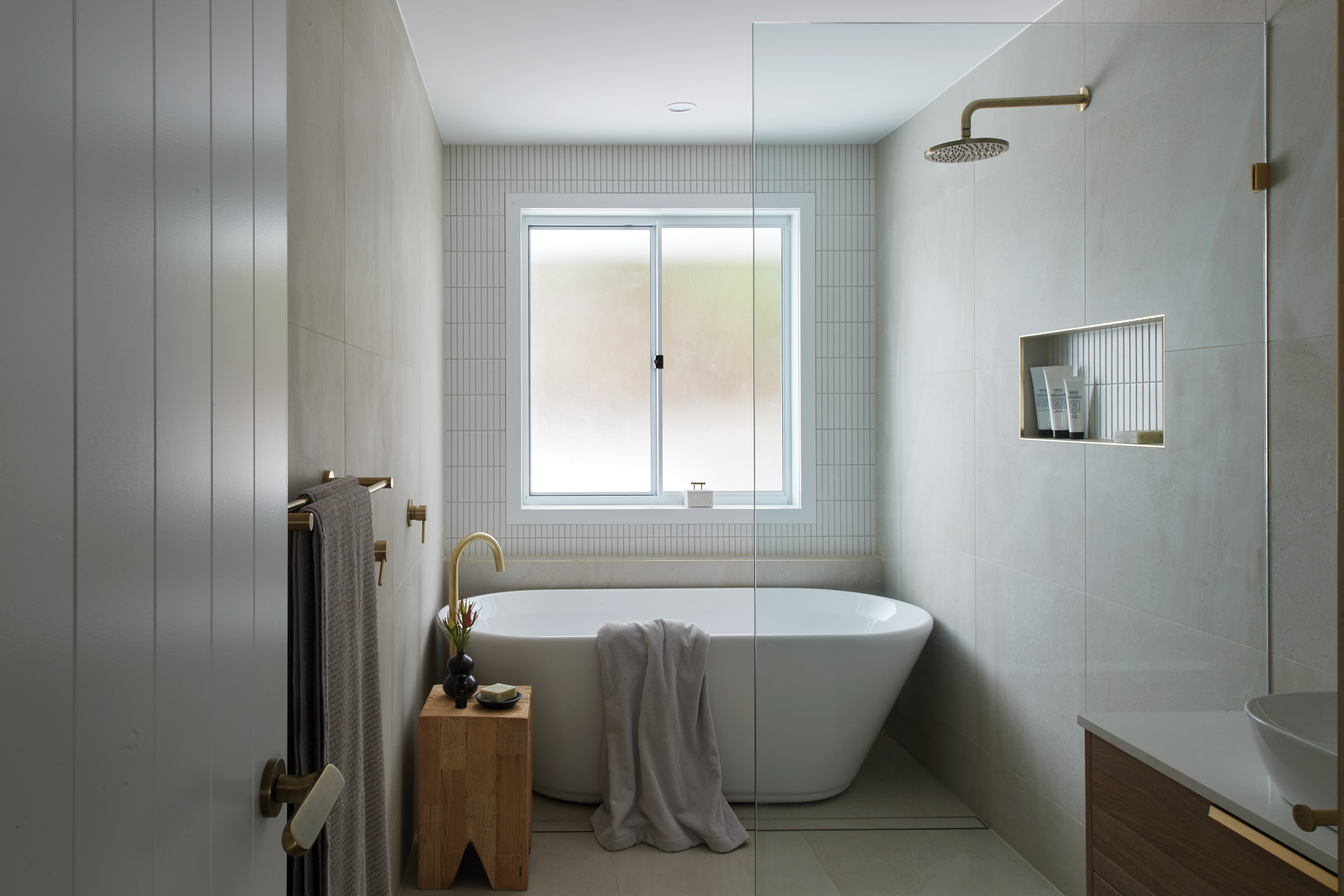 A Stegbar Frameless showerscreen features clean, elegant lines that complement most bathroom designs. As the name suggests, they have no frame, just beautiful glazing. You can choose various glass options and luxury finishes. Frameless showerscreens foster a minimalist aesthetic, and can be custom made to fit your unique vision.
Stegbar Semi-Frameless showerscreens combine beautiful form with function. Their subtle, thin frames around the outside of showerscreen bring a clean and spacious modern look and feel while still allowing for customised finishes and creative configurations.
A Stegbar Framed showerscreen is a more traditional style. With their glazing supported by a frame, they offer extra durability while featuring some innovative touches. You can choose the colour and finish of the frame to complement the rest of your home's palette, too. Framed showerscreens can be an affordable choice, and since they have extra support they're suitable for showers of varied sizes and shapes.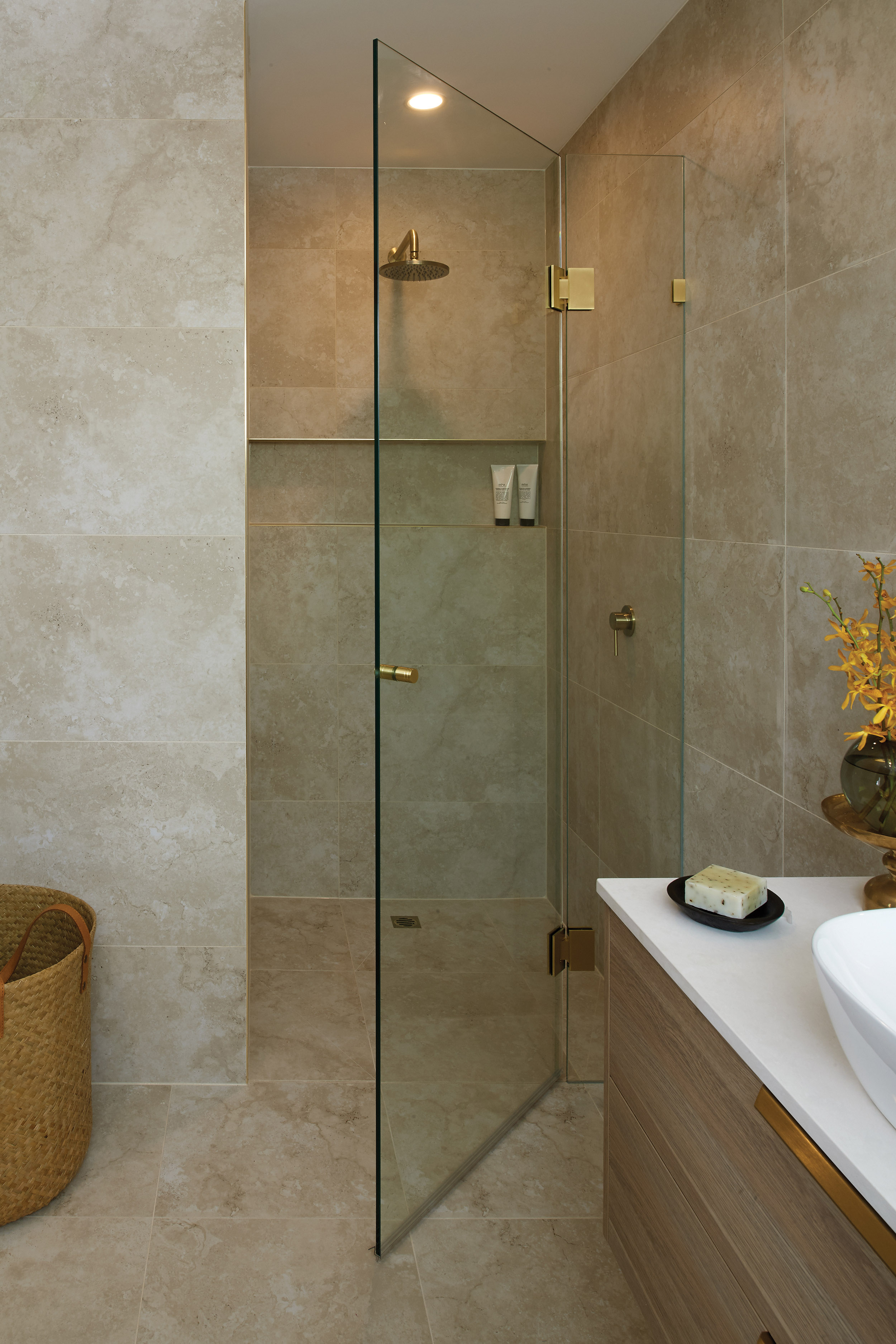 Doors
Most showerscreens feature doors to keep the water and steam where it is meant to be and keep your private time private. Typically, certain showerscreens come with specific door types to match the screen style, so knowing your doors might help you choose the right screen for you. Stegbar showerscreen doors come in sliding, hinged and pivot. With pivot doors comes the option of inline or overlap styles
Stegbar's Grange semi frameless showerscreens use a door with a pivot hinge, with the hinges located on the top and bottom rails. An overlap pivot door has an additional amount of overlap in the width of the door, so the door slightly overlaps the side lite. Overlap doors help minimise water leakage. Whereas an inline door is made to the exact size of the showerscreen door opening, there is no overlap on the side lite – this offers clean unobstructed lines.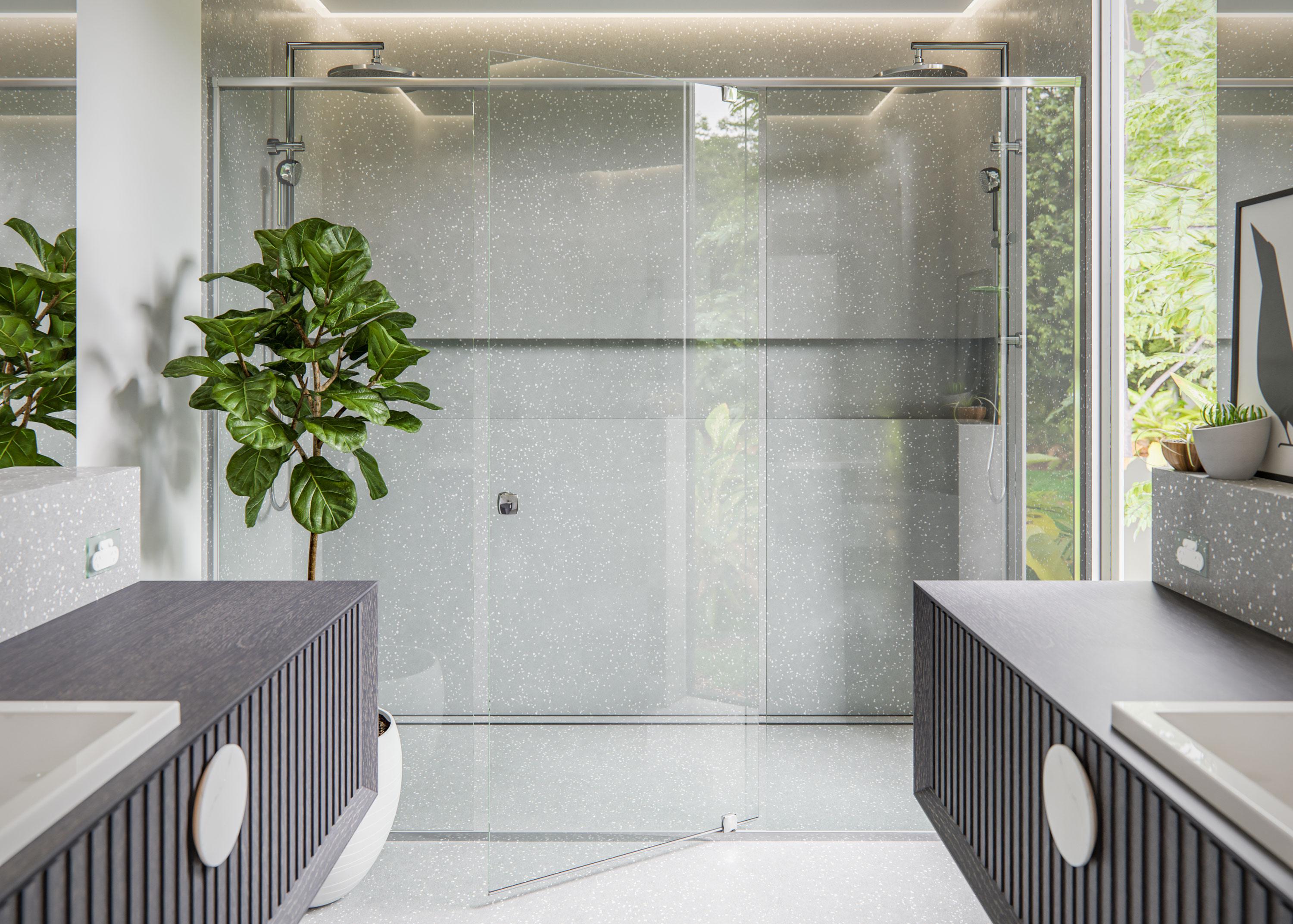 The Grange offers a nice balance of affordability and luxury and their slim frame, with no hidden screws or fixtures, makes them a breeze to clean.
Sliding doors, as you might expect, slide to open. They are smooth to operate and come in a range of configurations. You might choose a sliding door to save space: since the door slides along the screen rather than open out, it's a useful option for smaller spaces.
Stegbar frameless showerscreens use hinged hardware. And both hinged and pivot doors are worth considering when you have space in your bathroom for the door to open into, and when your shower sits in the corner against two walls and features one space for a door placement.
Frameless showers also can be designed just as a glass panel without a door. This is a very minimalist and clean design option. Consideration to placement of the shower head and the drain are critical factors to consider for showerscreens without doors as to avoid large amounts of water splashing outside the shower enclosure.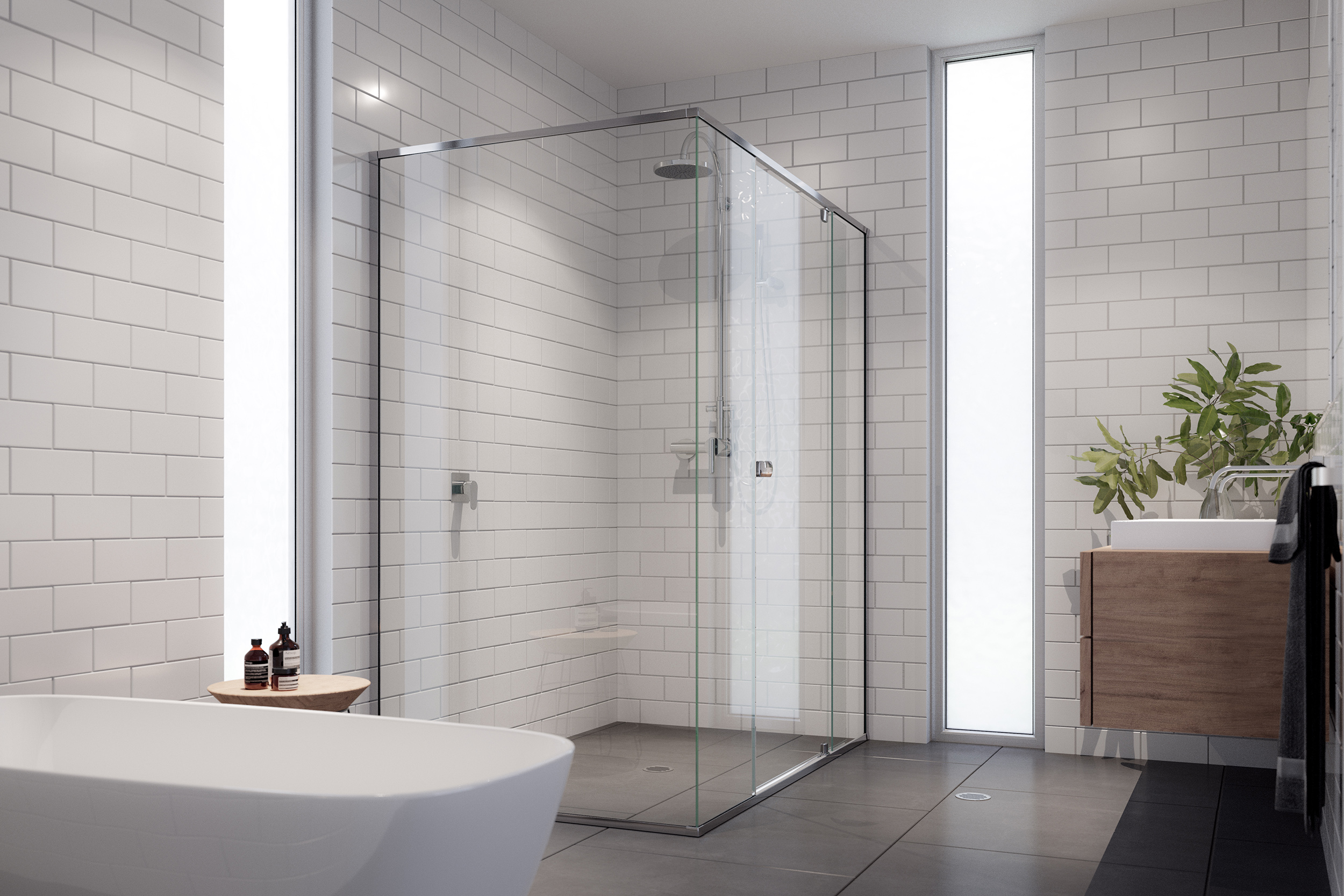 Glass
You might only think of showerscreen glass as clear or opaque, but it comes in a wide variety of styles. From standard clear or low-iron glass, which eliminates colour distortion and avoids that green tinge that can appear. Keep in mind, too, that this is no ordinary glass – all our showerscreen glazing is of a safe and durable standard and reaches or exceeds the Australian Standard AS 1288.
And finally, there is one more glass-specific thing to think about: whether to go with a protective coating. At Stegbar, we offer Nanoclean Protective Coating. Created with nanotechnology, it cuts cleaning time by repelling oil and water-based substances. So, if you're a busy person or simply dread cleaning your bathroom, think about adding a protective coating to make cleaning easier and quicker. It's also environmentally friendly, as you don't need harsh chemicals to clean.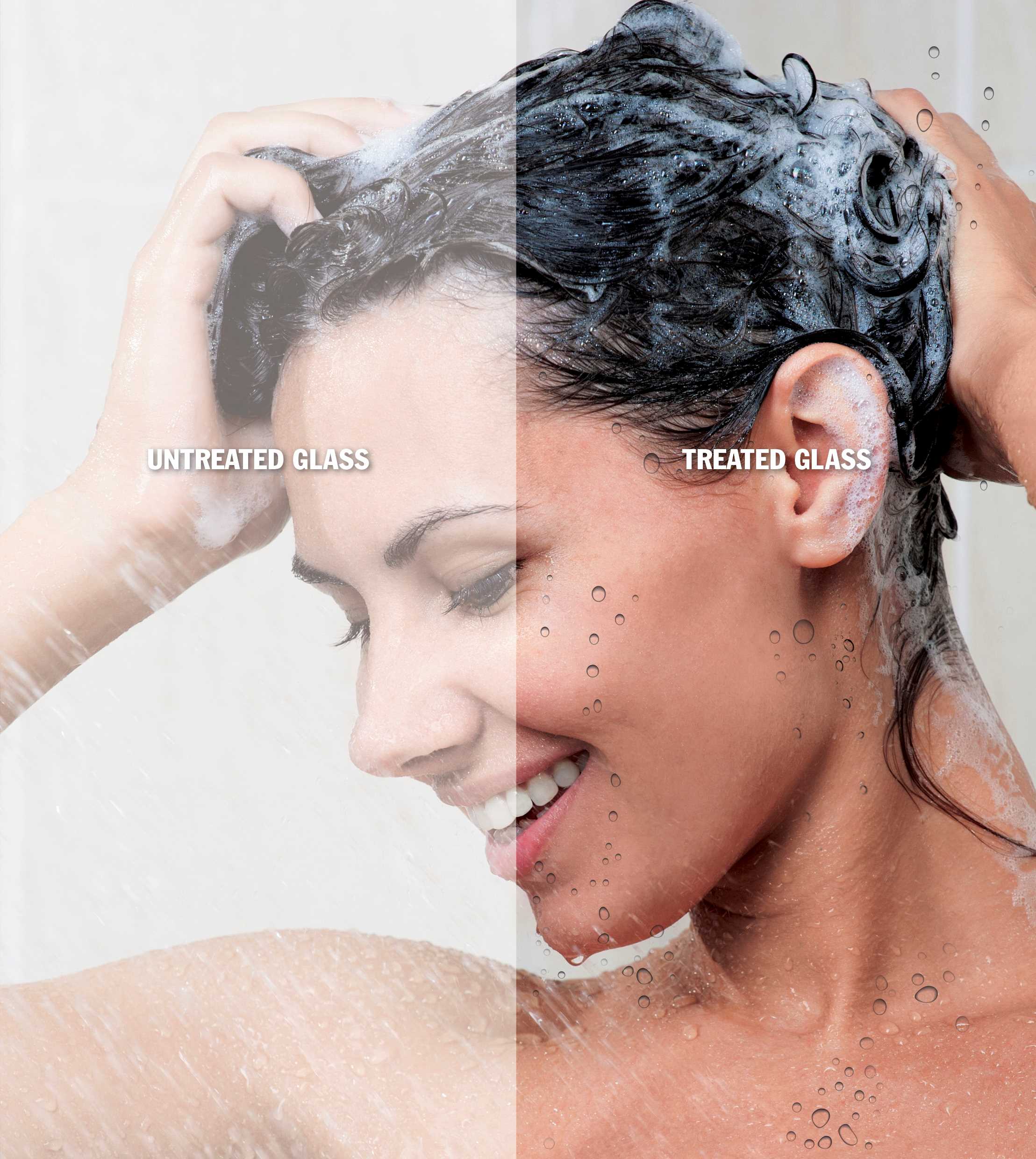 Talk to Stegbar about our extensive range of showerscreens. Place a website enquiry, phone 1800 681 168 or find your closest showroom.
Your Cart
---
No products in the Quote Drawer.
Your Stegbar Quote
item(s)
Attach Documents
(Plans, Reports, Photos)
---
Product Selection Summary
No products in the Quote Drawer.
Thank you for your quote request.
We look forward to helping you with your project.
Next Steps:
You will receive an email confirming your enquiry number.
A Stegbar team member will contact you within two business days to discuss your project.